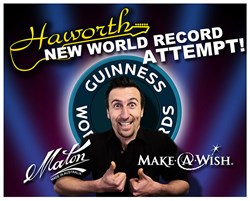 We're planning to have a sausage sizzle, and we will be auctioning the ukulele that I'll be playing in the record attemp
Wollongong, Australia (PRWEB) September 05, 2013
Australian Glenn Haworth has just announced that he will attempt to set a world-record for playing the ukulele non-stop, and raise funds for the Make-A-Wish-Foundation in the process.
Since he first announced the attempt on July 26, he has already attracted sponsorship of over $2,170 with his goal being $50,000.
If successful, it will be Mr Haworth's second Guinness World Record. In 2009, Glenn, the Managing Director of Australia's Haworth Guitars, restrung 30 guitars in just one hour. He kept that record fairly quiet - as a personal achievement - but this time he wants to attract as much attention as possible to help find sponsors from around the world to donate via give.everydayhero.com/au/glennhaworth.
"I will begin playing at 11 a.m. on October 4 and play right through until midday on October 5" said Mr Haworth, who is more experienced on the guitar than the ukulele.
"I've been practicing on the uke, and learning lots of songs to play, both right and left handed so that I can spread the strain across the fingers on both hands."
There are strict rules that need to be followed for Guinness to award the record to Mr Haworth. For instance, there can be no more than 30 seconds between songs, and just a five minute break each hour.
The Haworth Music Centre staff at the company's two retail outlets in Shellharbour and Wollongong are right behind the world record attempt, and are going all-out to encourage people to come along to support Mr Haworth and his fund-raising effort.
"We're planning to have a sausage sizzle, and we will be auctioning the ukulele that I'll be playing in the record attempt" said Mr Haworth. "And, importantly, Make-A-Wish representatives will be there to talk about the work they do for children in challenging health situations."
"I'm sure there will be plenty of customers, friends and colleagues there as well to encourage me by playing and singing along."
For more information about the ukulele world record attempt, and to find out how to sponsor Mr Haworth, visit Glenn Haworth's New World Record Attempt.
About Haworth Music Centre
Haworth Guitars was first established in 1999 by guitar lover and luthier Phil Haworth. His intention was to focus on repairing and building stringed instruments, but in 2000 he added a retail element to his thriving workshop business.
In 2008 the two-level Haworth Music Centre was opened at Albion Park Rail, near Wollongong, south of Sydney, Australia. Staffed by people who thrive in an environment where their love of musical instruments, and music, are encouraged.
Phil now spends most of his time in his guitar workshop. Haworth Music Centre is now run by Phil's son, Glenn, who, as Managing Director has grown the business to include a very active online sales element, a vibrant social media presence, and huge community support.
In 2013 Haworth opened up a second retail outlet in Wollongong, NSW, which features purpose built test-drive rooms, including those for drums, guitars and amplifiers.
More information can be found at HaworthGuitars.com.au, or follow them on Facebook at https://www.facebook.com/haworthguitars.