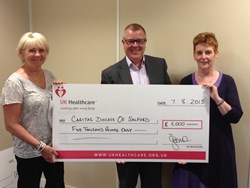 Caritas Diocese of Salford endeavours to improve the lives of the North West's most vulnerable children, young people and adults
Salford, Greater Manchester (PRWEB UK) 17 September 2013
Caritas Diocese of Salford, will continue to fund a variety of services for young women and their babies who are currently homeless in Bolton, thanks in part to a charitable donation by health cash plan provider UK Healthcare.
An evolution of the historic Catholic Children's Rescue Society, established in 1886, Caritas Diocese of Salford endeavours to improve the lives of the North West's most vulnerable children, young people and adults, and this is achieved via several vital programs and services.
From adoption support services, foster care services, a family contact centre, drop-in centres for homeless adults, and range of social work and community services, the organisation provides direct aid to the families and individuals who need it most in the community.
Everything that the charity does is inspired and driven by the Catholic faith, but while these values inform what they do, their charitable work is not limited to Catholic community. They provide universal care and support where it is needed regardless of faith, in an economic climate where this is needed more than ever.
The Young Parents service no longer receives statutory funding. Skilled staff provide 24 hour a day support and develop plans with each young parent to enable them to manage future tenancies well, care for their children and to develop their own potential through ongoing training and employment.
An outreach worker continues this work when they make the transition to their own tenancies and the young families are encouraged to come back to a twice weekly parent and toddler group to maintain their connection to the unit for as long as this is wanted.
As a leading UK provider of personal and corporate health cash plans, UK Healthcare offers affordable policies which allow plan holders to claim back cash for a wide range of medical services, including dental and optical treatment, health screenings, medical prescriptions and hospital stays, up to agreed policy limits.
UK Healthcare also backs a variety of fantastic charities and healthcare institutions throughout the UK, including Caritas Diocese of Salford. Last year, the company donated more than £56,000 for worthwhile causes. It was a record breaking year of charity work, but one that they intend to improve upon further in 2013.
Discover the benefits of a personal or corporate health cash plan today with a visit to the UK Healthcare website, http://ukhealthcare.org.uk.
For more information about Caritas Diocese of Salford, their work with vulnerable children and adults, pay a visit to the organisation's official website. http://www.caritassalford.org.uk