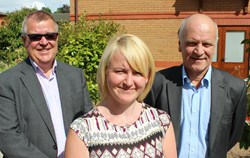 Francis House delivers support, comfort and care within a fun and relaxed environment.
Manchester, United Kingdom (PRWEB UK) 17 September 2013
Francis House Children's Hospice has benefitted from a significant charitable donation by health cash plan provider, UK Healthcare.
Situated in Didsbury, Francis House provides a haven for children and young people with life- limiting conditions. This is important to children and their families who often provide full time care without respite.
When children and young people are stricken with serious illnesses, their entire family is affected. Parents struggle to provide constant care while siblings can feel neglected. Francis House delivers support, comfort and care within a fun and relaxed environment.
A team of skilled nurses allow parents to relax and allow children to simply be children, regardless of their condition. Flexible services are delivered to cater to every need and experiences are provided to enrich young lives. Best of all, these services are offered completely free but this irreplaceable facility comes at a cost.
Last year, Francis House cost some £3.5 million to run, serving the whole of the North West at a cost of almost £10,000 per day. Since treatment is free, charitable donations are required in order for the hospice to provide the same high level of care and support year on year.
But work is also now underway on a seven-bedroom extension to the hospice which will provide an all new age appropriate environment for sick teenagers and young people. This means total running costs of around £4.6 million will be required once this much needed facility opens in 2014.
While Francis House relies upon the support of many hundreds of patrons from all over the North West, one volunteer fundraiser in particular continues to go above and beyond the call of duty to ensure that families benefit from the hospice for years to come.
Anne-Marie Noon, of Cheshire, is the driving force behind a popular charity fun day held at the Quarry Bank pub in Timperley, Cheshire. The event has become an annual fixture on the community calendar but Miss Noon hasn't rested on her laurels and was recently successful in applying for a major donation by UK Healthcare on behalf of Francis House.
As one of the UK's leading providers of personal and corporate health cash plans, UK Healthcare offers a variety of policies which allow plan holders to claim cash back on a variety of important medical services including dental and optical treatments, health screenings, medical prescriptions and hospital stays up to agreed policy limits.
But the company also supports a wide range of important charities and healthcare institutions throughout the UK including Francis House Children's Hospice. In 2012, UK Healthcare donated more than £56,000 for a variety of charities. It was a record breaking year but one that they're working hard to beat in 2013.
Stephen Pugh, CEO of UK Healthcare, recently visited the hospice to present Francis House Fundraising Manager Peter Forster with a cheque for £5,000.
Speaking after the presentation, Mr Forster said, "Anne-Marie has done an amazing job over the years fundraising for Francis House and her continued support is hugely appreciated. We are very grateful to UK Healthcare for making this very generous donation to our charity."
"With the building of our new hospice extension, costing £3.5 million and due to be completed early next year, Francis House will double in size, enabling us to provide the days and nights respite that the children, teenagers and young people need and deserve."
For more information on Francis House and their work with seriously ill children, young people and their families, visit http://www.francishouse.org.uk/ today.