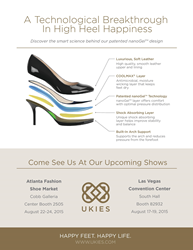 Our shoes are now more comfortable than ever!
Atlanta, GA (PRWEB) July 29, 2015
Comfort heel brand UKIES announces its attendance at fashion trade shows MAGIC (in Las Vegas) and the Atlanta Shoe Market. The innovative shoe brand based in Atlanta launched their debut collection in September 2014. The collection, entitled AM-PM, featured classic pumps designed for all-day wear and was featured in noted fashion press including Women's Wear Daily, Footwear News and Corporette. The brand is now gearing up to launch their new collection - which features a new and improved nanoGel™ comfort gel technology - as well as a redesigned logo and website.
In addition to new styles of comfortable heels and office pumps, UKIES will also be debuting several new models of wedges, flats and sandals. "We're so excited to introduce our first collection of sandals," says Kavita Khaitan, designer of UKIES heels. "The sandals will also feature the ultra-comfortable gel technology that our high heels are known for." The high performance shoes boast a unique pressure-distributing gel technology that ensures comfort and support with every step. "The technology in our shoes has been significantly improved," explains UKIES founder/CEO and engineer Umaesh Khaitan. "We've taken the feedback from our customers from our debut line and applied it to this new line. Our shoes are now more comfortable than ever."
The new 2015 collection features a dozen new shoe styles including "Jackie," a classic kitten heel; "Marilyn," a gorgeous romantic flower print pump; "Angelina," a sleek and sexy peep toe pump; and "Carrie," a fun and playful suede, fur-trimmed wedge boot.
Here's where retailers can find UKIES at this Summer's trade shows:
MAGIC / FN Platform
Las Vegas Convention Center
South Hall
Booth 82932
August 17-19, 2015
Atlanta Shoe Market
Cobb Galleria Center
Booth 2505
August 22-24, 2015
For more information about comfort heel brand UKIES, visit http://www.UKIES.com. For all press inquiries, email Press(at)UKIES(dot)com. You can also connect with UKIES on Facebook, Twitter, Instagram and Pinterest (@UKIESshoes).