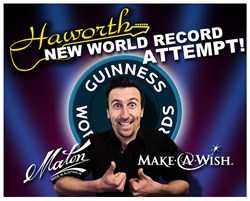 .... we have so many international connections, both customers and suppliers, that I'm hoping they will give their support as well...
Sydney, Australia (PRWEB) September 24, 2013
Glenn Haworth, MD of Haworth Music Centre, has announced that he will attempt to set a world record for the Longest Marathon Playing Ukulele. In making the attempt Mr. Haworth is raising much-needed funds for the children's charity Make-A-Wish Foundation Australia.
Haworth is an Australian retailer of musical instruments, with two physical stores in the Wollongong, NSW area and a vibrant international online shopping community. Through his page on EverydayHero.com, Mr. Haworth is encouraging supporters from all over the world to get behind his ukulele-playing world record.
International Support Sought
"We have the support of our local and Australia-wide community and already have pledges of $3000," explained Mr Haworth. "But we have so many international connections, both customers and suppliers, that I'm hoping they will give their support as well."
"The Make-A-Wish Foundation is known all over the world for the wonderful work it does in granting wishes to children with very serious illnesses, and I'm really pleased that the foundation will be represented at our Fairy Meadow store, where the attempt will take place."
The Longest Marathon Playing Ukulele world record attempt will begin at 11 a.m. on October 4, and finish at 12 noon the following day - 24 hours of ukulele playing by Mr. Haworth.
As well as accepting local and international sponsorship through his page at EverydayHero, Mr. Haworth is hoping for as many people as possible to be there to encourage him throughout the 25-hour period, and to support the foundation in several other ways.
"Representatives from Make A Wish Foundation Australia will be there, cooking a barbecue, and at the conclusion we'll begin an auction that will include the ukulele I play in the world record attempt," said Mr. Haworth.
Other auction items include an Ibanez guitar, Epiphone Les Paul guitar, Yamaha acoustic guitar, Fender accessories and a variety of pedals and amps.
More details about the event are at http://www.haworthguitars.com.au/event/World-Record-Attempt.
About Haworth Music Centre
Haworth Guitars was first established in 1999 by guitar lover and luthier Phil Haworth. His intention was to focus on repairing and building stringed instruments, but in 2000 he added a retail element to his thriving workshop business.
In 2008 the two-level Haworth Music Centre was opened at Albion Park Rail, near Wollongong, south of Sydney, Australia, staffed by people who thrive in an environment where their love of musical instruments, and music, are encouraged.
Phil now spends most of his time in his guitar workshop. Haworth Music Centre is now run by Phil's son, Glenn, who, as managing director, has grown the business to include a very active online sales element, a vibrant social media presence, and huge community support.
In 2013 Haworth opened up a second retail outlet in Wollongong, NSW, which features purpose built test-drive rooms, including those for drums, guitars and amplifiers.
More information can be found at HaworthGuitars.com.au, or follow them on Facebook at https://www.facebook.com/haworthguitars.