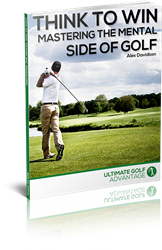 Although it is one of the most challenging skills to perfect, your mental game has a direct effect on your ability to play to your full physical potential and achieve your best scores on the course
Manchester, United Kingdom (PRWEB) March 18, 2014
Alex Davidson, founder of Ultimate Golf Advantage (UGA), today announces the launch of his new book, Think to Win, on Amazon for Kindle. The new book is designed to give golfers insight and advice for lowering their scores using easy-to-understand mental training techniques – the Kindle book is available now at http://www.ThinkToWinBook.com.
Mr. Davidson's new book, entitled "Think to Win: Mastering the Mental Side of Golf", is a pocket guide for serious golfers of all skill levels looking to take their game to the next level. Including mental game tips from professional golfers, mental programming techniques, as well as key thoughts for getting around the course, Think to Win is designed to help golfers break through the subconscious mental barriers preventing them from playing to their full potential on the course.
When asked about the motivation for the guide, Alex Davidson explained that holes in the mental game often go unnoticed because they're less tangible than flaws in the technical game, which can be fixed with a few key corrections and practice. Mr. Davidson said:
"Although it is one of the most challenging skills to perfect, your mental game has a direct effect on your ability to play to your full physical potential and achieve your best scores on the course." He continued:
"Interestingly enough, the mental game can also be repaired with a few key corrections and lots of practice. The hard part is identifying what exactly needs correcting to begin with, which is where many golfers hit the proverbial glass wall on the course and see their scores plateau."
The Kindle guide contains quick-fire mental game tips from professional golfers, as well as simple steps for calming your mind on the course. Mr. Davidson explained that there is a lot that can be learned from the techniques used by professional players:
"In a recent interview, Rory McIlroy spoke about how important it is to find focus on the course and learn to love pressure – he even said that he still feels the excitement of a weekend golfer when he plays." He continued:
"This is an important point that amateurs need to be reminded of – if a pro golfer like McIlroy can find focus in the face of such extreme tournament pressure and still enjoy the game, then what's stopping amateurs from breaking through those same mental barriers?"
Speaking about the guide's Amazon Kindle launch, Mr. Davidson commented:
"'Think to Win' is an easy-to-digest guide, ideal for on-the-go Kindle users. It speaks specifically to dedicated golfers who keep up to date with industry news and training resources and, as such, I wanted to give these savvy readers the flexibility to access my new guide on their preferred devices."
For more information and to download "Think to Win: Mastering the Mental Side of Golf" on Kindle, visit: http://www.ThinkToWinBook.com
About Ultimate Golf Advantage:
Ultimate Golf Advantage was founded to cut through all the marketing and training noise that exists in the golfing industry.
The team behind Ultimate Golf Advantage is committed to offering genuine advice and insight to passionate golfers around the world who are serious about improving their game.
More information can be found at the Ultimate Golf Advantage website: http://www.UltimateGolfAdvantage.com/