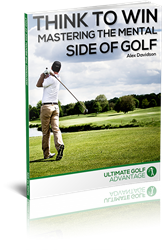 Professional players aren't inherently better able to shut out distractions than the rest of us, [the mental game] is a skill they work hard to refine
Manchester, United Kingdom (PRWEB) March 08, 2014
Alex Davidson, Golf commentator and founder of Ultimate Golf Advantage (UGA), today announces the launch of a new guide to improving the mental game of golf. "Think to Win: Mastering the Mental Side of Golf" includes actionable advice that can be put into practice on the course right away – the guide is available for download now at http://www.UltimateGolfAdvantage.com/secure/think_to_win/.
Top golfers including such sporting greats as Tiger Woods and Phil Mickelson understand that golf is a game of confidence and focus. They also know that the only way to maintain composure in high-pressure situations is to practice their mental game. Mental skill in golf is something that amateur and professional players alike struggle to perfect, but is also the key to playing to full physical potential and achieving low scores on the course.
It is for this reason that Alex Davidson, golf commentator and founder of Ultimate Golf Advantage, today launches a new guide to mastering the mental game. Mr. Davidson commented:
"Although the old adage, 'golf is 90% mental' is probably an exaggeration, it is undeniably true that your mental game has a direct impact on how well you are able to execute your physical technique on the course."
"Think to Win" offers golfers practical advice for improving confidence, calmness and enjoyment on the course. Including easy-to-implement tips and practice routines, the guide can be used as a long-term practice tool for golfers who are committed to playing to their full potential. Alex Davidson explained the importance of practicing mental game skills in the same way that one would go to the driving range regularly to practice technique, saying:
"Professional players aren't inherently better able to shut out distractions or overcome tough shots than the rest of us, these are skills that they work hard to refine." He continued: "Tiger Woods, for instance, has a 'ten-pace rule', which means he allows himself ten-paces to consider the shot he's just taken and let it go completely so as not to carry disappointment or expectations into his next shot."
The new "Think to Win" guide is designed to help players of all abilities calm their minds on the course and learn to overcome disappointment, frustration, anxiety – and other negative emotions that can cause a game to crumble – on demand.
The guide, which launches today, features ready-to-use tips and advice for strengthening mind skills on the course, including:

Quick-fire mental game tips from professional golfers
Simple steps for calming your mind on the course
Common mental mistakes and how to avoid them
Four key thoughts for getting around the course
Mr. Davidson concluded the interview by saying: "Every golfer has it within them to unlock their true playing potential and my new guide effectively offers them the key."
"Think to Win: Mastering the Mental Side of Golf" is available now for download at the Ultimate Golf Advantage website here: http://www.UltimateGolfAdvantage.com/secure/think_to_win/.
About Ultimate Golf Advantage:
Ultimate Golf Advantage was founded to cut through all the marketing and training noise that exists in the golfing industry.
The team behind Ultimate Golf Advantage is committed to offering genuine advice and insight to passionate golfers around the world who are serious about improving their game.
More information can be found at the Ultimate Golf Advantage website: http://www.UltimateGolfAdvantage.com/.