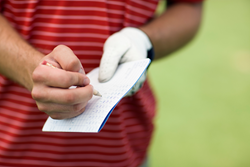 Everyone knows that golf is a sport of the mind, so the team at Ultimate Golf Advantage decided to take our audience of serious golfers to task
Manchester, United Kingdom (PRWEB) March 26, 2014
Ultimate Golf Advantage (UGA) today releases its first annual "Sports Trivia Week" challenge, which is designed to test the general knowledge of golf enthusiasts worldwide. The challenge is now available for public participation on the UGA website at http://www.UltimateGolfAdvantage.com/golf-trivia-challenge/.
Industry leaders in golf commentary and coverage, the team at Ultimate Golf Advantage has devised this new trivia challenge as an enjoyable way to get more amateur golfers involved in the game's rules and history. The challenge includes general knowledge trivia, as well as questions about the lesser-known rules of the game.
Resources from the R&A's official rules were used in the creation of the quiz. Making reference to the R&A's mission statement to engage in and support activities that are undertaken for the benefit of the game of golf, Ultimate Golf Advantage spokesperson, Alex Davidson, explained UGA's similar objectives. Mr. Davidson sees this week's challenge as an opportunity for players to expand their knowledge of the game in a unique and memorable way. He commented:
"Everyone knows that golf is a sport of the mind, so the team at Ultimate Golf Advantage decided to take our audience's brains to task." He explained:
"Our community of golfers is committed to the sport and work hard to perfect both the physical and mental game. This challenge has been designed to test whether or not their knowledge of rules, etiquette and players is as sharp as their skills on the links."
UGA's new trivia challenge is not only a nod to "National Sports Trivia Week", but also responds to a demand from UGA readers for more general-interest publications like the website's recently published guide to adventurous golf travel. Mr. Davidson explained:
"After receiving overwhelmingly positive feedback on our recent general-interest content, the team looks forward to making this quiz publically available for both participation and comment at the UGA website."
More information about the "National Sports Trivia Week" challenge can be found at http://www.UltimateGolfAdvantage.com/golf-trivia-challenge/.
About Ultimate Golf Advantage:
Ultimate Golf Advantage was founded to cut through all the marketing and training noise that exists in the golfing industry.
The team behind Ultimate Golf Advantage is committed to offering genuine advice and insight to passionate golfers around the world who are serious about improving their game.
More information can be found at the Ultimate Golf Advantage website: http://www.UltimateGolfAdvantage.com/.