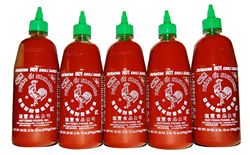 Our website specializes in peppers, spices and different types of sauces to offer an accurate resource to the general public
Los Angeles, CA (PRWEB) February 06, 2015
The popularity of Sriracha hot sauce has helped one pepper company to create a definitive guide for consumers online. The Ultimate Sriracha Buyer's Guide for lovers of hot sauce is now posted at http://pepperheadsforlife.com/ultimate-sriracha-buyers-guide.
This guide is offered for free and includes brief reviews of various brands of Sriracha that can be purchased on the web. Because there are now more companies producing variations of hot sauces, this ultimate guide is expected to improve research by consumers who purchase their sauces from different retailers.
"Our website specializes in peppers, spices and different types of sauces to offer an accurate resource to the general public," said one PepperHeadsforLife.com rep.
The posted guide now available features direct links that point to different retailers in the U.S. that market discount or wholesale prices for Sriracha hot sauce. Graphics are available to review for each brand of sauce to help users of mobile phones or tablets make better choices when reviewing sauces.
"We're hoping to provide the definitive pepper resource for consumers to aid in growing, marketing and purchasing various peppers and sauces nationally," said the rep.
Adults who appreciate the heat found in organic and store-bought peppers can also benefit from the Scoville scale for peppers that is now posted at the PP4L website at http://pepperheadsforlife.com/the-scoville-scale. This scale can be helpful in determining the actual heat levels in numeric format.
About PepperHeadsforLife.com
The PepperHeadsforLife.com company has created one of the first all-inclusive portals for lovers of spices, peppers and sauces in the U.S. The company adds fresh content to its portal daily and covers all areas of the food industry. The PepperHeadsforLife.com company provides links to suppliers and wholesalers in the pepper industry to provide adults with a range of options to purchase products.