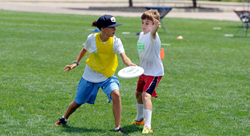 We've received consistently great feedback from the last three years of Philadelphia campers.
San Rafael, CA (PRWEB) April 18, 2016
The Nike youth ultimate Frisbee™ camp in Philadelphia will return for its fourth year this June. This sports camp in Pennsylvania is run by extremely knowledgeable and passionate ultimate figures, Jim Brose and Richard Atkins. Jim founded the Philadelphia Ultimate Camp back in 2004, is president of the Philadelphia Area Disc Alliance (PADA) for the second time, and boasts an extensive background as a player, including 3 trips to Worlds, and 9 trips to Nationals with the masters team he formed. Richard "Big Rick" Atkins has been playing and teaching ultimate since leading his Penn team to a college national championship in 1985 and has also won a masters nationals championship and 3 world championships. He is currently the Program Director for PADA and is the coach of the boys ultimate team at Lower Merion High School.
"We've received consistently great feedback from the last three years of Philadelphia campers and the credit must be given to these outstanding Directors" said Siera Levenson, National Manager of Nike Ultimate Camps. "Jim and Rick's overwhelming knowledge and passion for the sport, coupled with their expert coaching talent, makes this a very unique and special camp program."
The Nike Ultimate Camp of Philadelphia is a day camp running from 9:00am – 4:00pm daily from June 27 - July 1, 2016. The camp is open to both boys and girls aged 12­-18 of any skill level and takes place at "Philadelphia's favorite locale for ultimate" Edgely Field located at Fairmount Park.
Detailed information on the Nike Ultimate Camp of Philadelphia can be found online at http://www.ussportscamps.com/ultimate or call 1-800-NIKE-CAMP.
About US Sports Camps, Inc.
US Sports Camps (USSC), headquartered in San Rafael, California, is America's largest sports camp network and the licensed operator of Nike Sports Camps. The company has offered summer camps since 1975 with the same mission that defines it today: to shape a lifelong enjoyment of athletics through high quality sports education and skill enhancement. Players, coaches, parents and others interested in Nike Ultimate Camps and US Sports Camps can visit the company's website at http://www.ussportscamps.com.