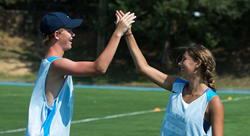 The spirit of ultimate is pure in nature, and players continue to be drawn to that.
San Rafael, CA (PRWEB) March 11, 2015
Ben Feldman, founder of Next Level Ultimate, and Siera Levenson, National Manger for Nike Ultimate Camps, are dedicated to their mission of providing high school players with one of the best opportunities to develop skills, strategy, and teamwork, while simultaneously cultivating the spirit of the game. The Nike Next Level Ultimate Camp is committed to building leaders on and off the field by recruiting highly dedicated staff who work hard to give campers the confidence and tools necessary to improve.
The 2015 Nike Next Level Ultimate Camp at the University of Oregon will run from July 25-30. Located in Eugene, Oregon, the camp is geared towards high school girls and boys, ages 14-18. With Overnight and Extended Day (8:00 a.m.- 9:30 p.m.) programs offered, campers will have the unique opportunity to experience the same drills and focused scrimmages that top university and club level players use to reach the pinnacle of their games.
"After two successful summers partnering with Next Level Ultimate last year, we are elated to join forces again and host another year of camp in Oregon," said Siera Levenson. "The spirit of ultimate is pure in nature, and players continue to be drawn to that. Next Level Ultimate does a fabulous job providing a platform for boys and girls to grow in the game they love."
Detailed information on the 2015 Nike Ultimate Camps can be found online at http://www.ussportscamps.com/ultimate.
About US Sports Camps, Inc.
US Sports Camps (USSC), headquartered in San Rafael, California, is America's largest sports camp network and the licensed operator of Nike Sports Camps. The company has offered summer camps since 1975 with the same mission that defines it today: to shape a lifelong enjoyment of athletics through high quality sports education and skill enhancement. Players, coaches, parents and others interested in Nike Ultimate Camps and US Sports Camps can visit the company's website at http://www.ussportscamps.com.