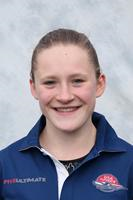 I was extremely impressed by the Nike Ultimate Camp in Hayward.
San Rafael, CA (PRWEB) March 04, 2016
US Sports Camps announces that Jenna Krugler, past camper at the Nike Ultimate Camp at CSU-East Bay, will represent USA this summer on the women's national team at the 2016 World Junior Ultimate Championships (WJUC).
Krugler is among the 60 athletes who were selected for the two Junior National Team rosters (Men's and Women's) after two weekends of tryouts that included more than 200 athletes, narrowed down from a pool of nearly 400 original applicants.
Krugler started playing Ultimate Frisbee™ in 7th grade on the Bitney College Prep team, Air Traffic Control. The "combination honesty, spirit, family, supportiveness, competition, and athleticism that ultimate offers" is what made her fall in love with the sport. Coming from a small town, Krugler exposed herself to ultimate through playing for other high school teams, the junior national team, and traveling to attend summer ultimate camps and clinics, like the Nike camp in California.
"I was extremely impressed by the Nike Ultimate Camp in Hayward," said Krugler. "It was very well run and organized. The coaching staff was quite knowledgeable and easy to work with and did a great job of being both intense and fun." She elaborates, "I really enjoyed the way the camp was formatted with rotating group stations focusing on different aspects of ultimate with different drills. I would absolutely recommend this camp."
After the World Junior Ultimate Championships, Krugler's ultimate goals are to make it into Stanford and play for Stanford Superfly and eventually play for a high level women's team like Nightlock or Fury.
About US Sports Camps, Inc.
US Sports Camps (USSC), headquartered in San Rafael, California, is America's largest sports camp network and the licensed operator of Nike Sports Camps. The company has offered summer camps since 1975 with the same mission that defines it today: to shape a lifelong enjoyment of athletics through high quality sports education and skill enhancement. Players, coaches, parents and others interested in Nike Ultimate Camps and US Sports Camps can visit the company's website at http://www.USSportsCamps.com .