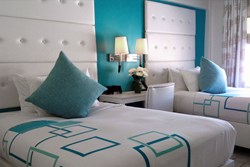 The Ultra Music Festival is truly a must-attend event that brings in music lovers from around the world
(PRWEB) December 23, 2013
Music fans from around the world who can't wait for March 28-30, 2014 to roll around so they can immerse themselves in Miami's annual outdoor electronic music extravaganza -- otherwise known as the Ultra Music Festival -- can now save big when they book their stay at the ideally-located luxury boutique Beacon Hotel.
The special offer, which is valid for stays through March 31, 2014, includes 25% off accommodations in any of Beacon Hotel's luxuriously-appointed guest rooms. Plus, guests will enjoy an array of extras and amenities that some other South Beach hotels charge a premium for, yet come standard at Beacon Hotel. These include:

Complimentary Hot Breakfast
Complimentary Beach Chairs & Beach Towels
Complimentary High-Speed Wi-Fi
Personalized Concierge Service
Complimentary Local Calls
Valet Laundry Service
Business Center
Fitness Room
Turndown Service
AAdvantage Miles®
Plus, guests will love staying at the dynamic, pulsating heart of South Beach, and just steps away from the beach, the Atlantic, shopping, clubs, sights, sounds, restaurants and more.
"The Ultra Music Festival is truly a must-attend event that brings in music lovers from around the world," commented Chris Regalado, Beacon Hotel's Revenue Manager. "It's no surprise that tickets for the 2014 edition, which will be held in downtown Miami's Bayfront Park, sold out in a matter of seconds. We're thrilled that our new special offer will give those fortunate enough to attend the event yet more reasons to smile, dance and party nonstop!"
Guests who want to take advantage of Beacon Hotel's special 25% discount offer can check availability and book online by visiting http://www.beaconsouthbeach.com/miami-beach-food-and-wine-ultra-and-boat-show-specials.htm, or by calling (305) 674-8200. As noted above, the offer is valid for stays until March 31, 2014, and guests must enter the promo code WNTR to receive the discount.
For more information or media inquiries, contact Christopher Regalado, Revenue Manager, at chris(at)beaconsouthbeach(dot)com or 305.674.8200.
About the Beacon Hotel
Renowned among chic and stylish Miami Beach hotels, and located in the heart of South Beach, the Beacon Hotel is a Boutique Art Deco Hotel just steps away from all of the best entertainment that South Beach has to offer: Sun, Sand and Sea. With the clear blue waters of the Atlantic directly across its front doors, the Beacon Hotel offers the perfect ambiance for a breathtaking beach vacation, featuring world-class amenities, an exquisite restaurant and tantalizing nightlife. Guests enjoy an extraordinary gastronomic experience with live music entertainment that will elevate their spirits with the melodies that fill the air. With an array of beach side water sports, state-of-the-art fitness center and highly advanced business center, Beacon Hotel is a full-service boutique South Beach Hotel.
Learn more at http://www.beaconsouthbeach.com/.
###