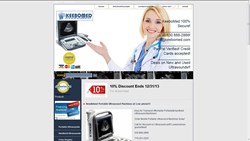 We are happy to bring to you Chison ECO-3, which is excellent, portable diagnostic equipment. The machine facilitates high frequency examinations that produce good quality images. The handheld machine guarantees powerful performances and top image quality
Mount Prospect, IL (PRWEB) January 22, 2014
KeeboMed Inc., the leading vet and human diagnostic machines' supplier, has introduced Chison ECO-3 ultrasound scanner in its collection. The handheld equipment is cordless and finds its good application in offsite examinations.
One of the company executives said, "We are happy to bring to you Chison ECO-3, which is excellent, portable diagnostic equipment. The machine facilitates high frequency examinations that produce good quality images. The handheld machine guarantees powerful performances and top image quality. Its 12 inch LCD is good for viewing the scans clearly. Also, the LCD can be rotated within 30 degree angle for easy viewing. It has two probe connectors, inbuilt memory that lasts up to two hours, memory of up to 320 GB and its supports 9 types of probes. All these features and a competitive pricing make it a must buy diagnosis machine."
KeeboMed Inc. has a huge collection of ultrasound machine that are from world renowned brands of ultrasound manufacturers. The machines displayed on its online store are backed by a warranty so the buyers need not worry about their reliability. The store has several customer beneficiary policies; 30 days refund policy is one of them. In case of an unsatisfactory purchase, the customers have full right to ask for a refund. KeeboMed Inc. has been supplying used and new medical supplies to veterinarians, animal breeders and farmers.
"We offer some of the best deals on medical equipment. The Portable Ultrasound scanners at our store can be used for sonography in all kinds of animals. Farmers, breeders and veterinarians can buy machines for vet use from us. The company offers some of the best portable ultrasound scanners for human and animal use. You can buy affordable hand held and portable used ultrasound machines and other tools from us," added the executive.
KeeboMed Inc. is the place to shop for the best quality color Doppler ultrasound machine and a variety of other types of diagnostic tools and medical supplies which find their frequent application in a clinical setting. To shop for sonogram machine, click here.
About KeeboMed Inc.:
KeeboMed is a leading online store for buying human and animal ultrasound equipment and a variety of other medical tools. The company aims at providing best quality diagnostic machines to its US wide customers at competitive prices. The store's collection includes anesthesia machines, scanners, ventilators, orthopedic instruments, pulse oximeters, surgical sutures etc. To shop for ultrasound portable machines, click here.
Contact Details:
KeeboMed Inc.
832 E. Rand Road
Mount Prospect
IL 60056
Phone: 630-888-2888, 779-221-2222
E Mail: keebovet(at)gmail(dot)com; info(at)keebovet(dot)com; medvetequipment(at)yahoo(dot)com
Website: http://www.keebomed.com/