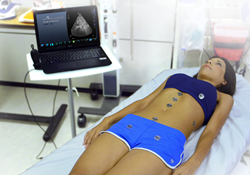 SonoSim LiveScan™ brings unparalleled realism to ultrasound simulation.
Santa Monica, CA (PRWEB) July 23, 2014
SonoSim, Inc., a leading provider of ultrasound education and training, announced today the release of SonoSim LiveScan™, the first ultrasound simulation technology to transform volunteers and standard mannequins into high-fidelity ultrasound training tools. Development of an easy and effective method to provide ultrasound training has been cited as a key factor that will unleash the transformative power of bedside ultrasonography. SonoSim uses a combination of advanced motion sensor technology and real-patient ultrasound data to provide medical educators with a true-to-life and cost-effective resource to meet the overwhelming demand to train healthcare providers in bedside ultrasonography.
"SonoSim LiveScan™ brings unparalleled realism to ultrasound simulation," states Dr. Dan Katz, Vice President of SonoSim. "By streamlining real-patient simulation scenarios, educators are now better able to train and assess healthcare providers seeking to learn how to use ultrasound to diagnose, monitor, and treat patients. SonoSim LiveScan™ overcomes traditional barriers to ultrasound training and assessment, and features the largest collection of real ultrasound training cases in the world."
SonoSim LiveScan™ was first unveiled in January 2014 at the annual International Meeting on Simulation in Healthcare (IMSH) in San Francisco, CA, and has garnered much interest from prominent industry experts, academic institutions, and companies dedicated to the advancement of ultrasound simulation in healthcare.
SonoSim LiveScan™ is now available for purchase in the United States and Canada and will be made available for international purchase starting September 1, 2014.
About SonoSim, Inc.
SonoSim is dedicated to improving and transforming medical care by becoming a global leader in ultrasound education and training. With its staff of leading ultrasound educators, computer-based instructional designers, content editors, scientists, and software developers, SonoSim has created the easiest, most effective, and most convenient way to learn ultrasound: The SonoSim® Ultrasound Training Solution. For more information, visit: http://www.sonosim.com.
Contact:
Dan Katz, MD
VP Sales & Product Development
SonoSim, Inc.
1738 Berkeley Street
Santa Monica, CA 90404-4105
(323) 473-3800
© 2014. SonoSim, Inc. All rights reserved. SonoSim and The SonoSim Ultrasound Training Solution are trademarks of SonoSim, Inc. All other trademarks are the property of their respective owner(s).