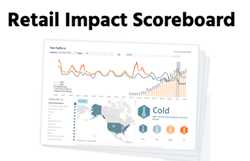 As state governors, local leaders, and businesses look ahead and begin projecting future recovery efforts, Unacast's Retail Impact Scoreboard is designed to give insights into the commercial impact of COVID-19.
NEW YORK (PRWEB) April 16, 2020
To surface economic trends in the wake of the pandemic, Unacast, an award-winning location data and analytics firm, today launched its Retail Impact Scoreboard, the latest addition to its pro-bono COVID-19 Toolkit and an extension of its popular Social Distancing Scoreboard. The new retail scoreboard rates how 15 different retail and business categories such as grocery, restaurants, gas stations, - pharmacies are weathering the pandemic's economic impact, using "Hot," "Warm," "Cool," and "Cold" to compare current foot traffic to the same period last year and will show daily movement in coming weeks and months.
As state governors, local leaders and businesses look ahead and begin projecting future recovery efforts, Unacast's Retail Impact Scoreboard is designed to give insights into the commercial impact of COVID-19, to help monitor which industries are "heating up" or "cooling down" across a variety of geographies and retail types. The temperature indicators show, on a year over year basis, the differences in foot traffic decline, as well as businesses hardest hit by the pandemic, as follows:

Hot: More than 20% increase in traffic trends
Warm: Between 0% and 20% increase in traffic trends
Cool: Between 20% and 0% decrease in traffic trends
Cold: More than 20% decrease in traffic trends
Examples of trends that are surfacing:

Only two categories: Home Goods & Improvement and Grocery & Food received 'Cool' ratings on a national level, while the rest show as 'Cold,' displaying more than a 20% year over year decrease in traffic trends;
As of April 10th, restaurants, entertainment, clothing, and travel saw a 75% or more reduction;
Home Improvement and Grocery show as "Hot" or "Warm" in some states (Idaho, Kentucky);
Spikes in retail visits in the wake of the first media reports of pending stay-home orders in early March, and again on March 13th, when a National Emergency was declared and consumers likely began 'panic shopping," especially in grocery and pet store categories;
Five days after the National Emergency declaration, visits to most retail categories plummeted by more than 20% with the exception of grocery, pet and home improvement categories;
A significant reduction in frequency to grocery stores and gas stations, but with more time spent per visit since shelter-in-place orders were issued around the country;
Hotspots like New York, Seattle, and San Francisco took much swifter and earlier action to stem visits to retail locations than areas like Dallas or Nashville;
Unacast applied geospatial human mobility insights, combined with its proprietary Real World Graph® data engine to develop the Retail Impact Scoreboard and the Social Distancing Scoreboard as ways of transforming multiple data sources into meaningful, easy-to-grasp dashboards. The tools show social distancing and mobility trends, as well as ways to track patterns and provide information that could help inform ways to slow the spread of COVID-19 and forecast post-COVID-19 plans.
"Data can be one of society's most powerful weapons in this public health war," said Unacast Co-Founder and CEO Thomas Walle. "More than four million people have accessed the Social Distancing Scoreboard since its launch, and it's been amazing to see leaders from both public and private enterprise organically begin to use it as a communication tool. It's clear the pandemic is taxing our public health institutions. But we also wanted to observe COVID-19's impact on local economies, starting at the retail level. We believe this data will inform decision making today, as well as aid in recovery in the future."
Unacast is developing the COVID-19 Toolkit with public datasets, as well as aggregate mobility and anonymous device data from tens of millions of devices. Unacast's proprietary technology then extrapolates the results to show trends by county and by state. As with all Unacast technology, the Toolkit follows GDPR and CCPA guidelines.
About Unacast
Unacast is an award-winning human mobility data company that harnesses anonymous device location data, map data, and strategic intelligence to tackle business challenges for the retail, real estate, tourism, transportation, and marketing industries. With its flagship product "The Real World Graph®", it provides innovative solutions and insights to operational challenges for companies of any size or shape. Unacast was founded in 2014 with offices in New York and Oslo, Norway. In 2019, Unacast was awarded the #1 small company to work in NYC for by Built In NYC and received Street Fights' Most Innovative Use of Geospatial Technology award.