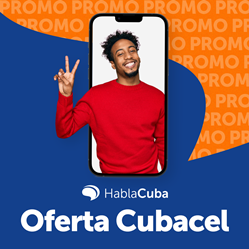 ATLANTA (PRWEB) May 26, 2023
Cubans around the world are in for an exciting treat as the May Cubacel promo kicks off from May 24th to May 31st, on HablaCuba.com. This exclusive limited-time offer brings unbeatable deals that will leave users in awe and ensure seamless connections with loved ones back home in Cuba.
Unveiling a World of Irresistible Offers
During this promotional period, Cubacel is rolling out a selection of mouth-watering deals that cater to every communication need. Whether individuals are seeking to stay in touch with talkaholics, satisfy their data appetite, or obtain unparalleled value, the Cubacel promo has it all.
Users can expect the following benefits with each recharge:
For just 500 CUP, customers can enjoy their main balance, receive an additional 3000 CUP, revel in a generous 25 GB of data, and experience unlimited data usage from 12:00 a.m. to 7:00 a.m.
Taking it up a notch, a recharge of 1000 CUP grants users their main balance, an impressive 6000 CUP bonus, a whopping 50 GB of data, and unlimited data usage from 12:00 a.m. to 7:00 a.m.
For those seeking next-level mobile bliss, a recharge of 2000 CUP rewards users with their main balance, a mind-blowing 12,000 CUP bonus, a staggering 100 GB of data, and unlimited data usage from 12:00 a.m. to 7:00 a.m.
With a limited promotional period, time is of the essence. Users are encouraged not to miss out on these sensational offers; they should act now to enjoy unmatched benefits that will bring happiness to their loved ones.
Please note:
The bonus money, data, and unlimited data usage must be utilized within 30 days of the recharge.
The main balance retains its validity for an impressive 330 days from the time of recharge.
Furthermore, in addition to facilitating top-up transactions, HablaCuba.com offers customers the convenient option to recharge the Nauta accounts of their family members and friends, enabling them to gain access to the internet. For those seeking a more personalized communication experience, HablaCuba.com's calling services provide an ideal solution. Customers can make calls in the following ways:
Utilizing access numbers from any landline, mobile device, or even payphone worldwide.
Leveraging the KeepCalling smartphone app, available for both iOS and Android devices.
When dialing internationally to Cuba, the call rate is set at 69.9¢/min for both landlines and mobile phones, while the cost of sending a text message is 7¢.
HablaCuba.com's comprehensive range of services perfectly aligns with the website's mission to bridge the gap between people, regardless of the distance that separates them. By keeping individuals connected, HablaCuba.com proves that no distance is insurmountable.
About HablaCuba.com
HablaCuba.com is an interactive website designed by KeepCalling, a global telecommunications company registered in 2002 in the USA. Presently, KeepCalling provides its services to hundreds of thousands of consumers, with a focus on customer satisfaction. KeepCalling has been listed by Inc 5000 as one of the fastest growing companies in the USA for 5 consecutive years. In 2015 the company registered a revenue increase of over 200% from 2011 to 2014.