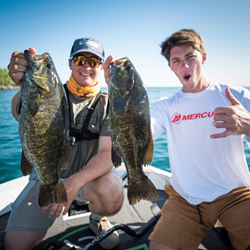 We wanted to bring the audience on a fishing adventure with some of the most popular YouTube personalities. - Eli Rosenberg, Director of PR & Media for Catch Co.
CHICAGO (PRWEB) October 08, 2019
The Catch Company, an innovative creator of amazing fishing brands, products, & shopping experiences for the modern angler, in collaboration with Mercury Marine, recently premiered the final episode in the current installment of the YouTube series "Unchartered: Chicago".
Featuring YouTube anglers from the Catch Co. roster of influencers. Three anglers from across the country venture to a unique location to experience the culture, the people, the food, and of course the fishing. Complete with a set of challenges, consequences, and a winner's donation to charity. The Unchartered series has already racked up hundreds of thousands of views, with more to come.
This installment finds Jon B, of Fishing the Midwest on YouTube, Lawson Lindsey and a newcomer, Luke Norman, of Fishing With Norm, traveling through the Midwest, seeking out a hot northern bite. With stops in Fond Du Lac, an offshore adventure on Lake Michigan, and ending up in Chicago, the series showcase several different types of midwest fish species. The guys also experience the local cuisine, as well as some dramatic moments, all while traveling with new friends, exploring interesting locations.
"We wanted to bring the audience on a fishing adventure with some of the most popular YouTube personalities. The added competition component helps fuel the excitement of the series, while also giving us a chance to support some amazing local charities, and exposing the audience to interesting locales they might not otherwise get to experience," says Eli Rosenberg, Catch Co. Director of PR & Media, and one of the creators of Unchartered.
This is the third installment of Unchartered, and the follow up to "Unchartered: New Orleans" which premiered back in April 2019. In that series the guys traveled from New Orleans, down to Venice, LA, to target redfish. They ended up locating some of the largest Sheepshead you'll ever see, and found themselves in the marsh on the wrong side of a receding afternoon tide. Check out "Unchartered: New Orleans" on the Catch Co. YouTube Channel.
Along with traveling and exploring, the Unchartered series is also a fierce competition. Each angler is competing both for bragging rights and for a local charity of their choice. In the end, the angler with the most points, earned over a series of both fishing and non-fishing challenges, will be crowned the winner, and their chosen charity will receive a $1,000 donation, furnished by Mercury Marine and The Catch Co. In New Orleans, Jon B was victorious, choosing Cast4Kids.org as his charity. In the Chicago Installment, Jon is once again competing, fishing for Wisconsin Wildlife Foundation, while Lawson is fishing for The Fund for Lake Michigan, and Norm for Take a Vet Fishing. Tune into the finale to see who wins and which charity receives this donation.
Unchartered is an ongoing series, stay tuned to the Catch Co. YouTube channel to find out where they venture to in 2020!
Check out all the Unchartered adventures here: https://www.youtube.com/catchco
About The Catch Company
The Catch Company is on a mission to help everyone "Explore Your Passion." Our goal is for every Angler in America to fall in love with one of our brands. We have a unique approach to commerce and community to feed anglers' endless appetite for product innovation, experimentation, discovery, learning, nature, and of course…fishing! Press inquiries, please contact Eli Rosenberg, eli.rosenberg@catchco.com
About Mercury Marine
Headquartered in Fond du Lac, Wisconsin, Mercury Marine is the world's leading manufacturer of recreational marine propulsion engines. A $2 billion division of Brunswick Corporation (NYSE: BC), Mercury provides engines, boats, services and parts for recreational, commercial and government marine applications, empowering boaters with products that are easy to use, extremely reliable and backed by the most dedicated customer support in the world. Mercury's industry-leading brand portfolio includes Mercury and Mariner outboard engines; Mercury MerCruiser sterndrive and inboard packages; MotorGuide trolling motors; Mercury propellers; Mercury inflatable boats; Mercury SmartCraft electronics; Attwood marine parts; Land 'N Sea marine parts distribution; and Mercury and Quicksilver parts and oils. More information is available at mercurymarine.com.