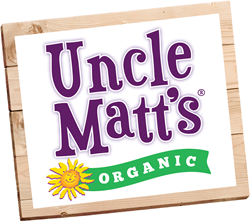 Clermont, FL (PRWEB) April 08, 2014
Uncle Matt's Organic, the nation's original organic juice company, believes that people have a right to know what's in their food. Throughout their 15 year history, the company has maintained its steadfast commitment to producing the most wholesome, organic produce and juice possible. As part of its mission, Uncle Matt's Organic has been a leader in the non-GMO and labeling movement, working closely with the Organic Trade Association, Just Label It, a non-profit dedicated to promoting transparency in food labeling, and other equally committed partners to advocate for clear labeling. To further underscore their pledge to consumers, Uncle Matt's Organic is updating their packaging to include a "no flavor packets" sticker to their line of organic, great-tasting citrus juices.
"As a fourth generation family-owned farming business, it's important for our company to uphold its foundational values of producing the healthiest, most nutritious, organic crops possible," says Matt McLean, CEO and founder of Uncle Matt's Organic. "That's why we're able to deliver great-tasting, premium quality orange juice with no artificial flavors or preservatives." While Uncle Matt's Organic has never used flavor packets in its orange juice, the new sticker will help make it easier for consumers to make informed purchasing decisions.
To ensure that orange juice maintains a consistent taste and flavor, some orange juice brands work with flavor and fragrance companies to artificially flavor their juice using flavor packets. Made from orange essence and oils, flavor packets are added into juice to create a standard taste. While flavor packets are often times chemically altered -since they are technically derived from orange by-products- they are not required to be listed as an ingredient.
However, Uncle Matt's Organic offers a fresh-squeezed taste and gourmet quality without additives, artificial flavors or preservatives. Moms can feel good about providing Uncle Matt's Organic juice for their families, because it is the highest quality juice with no added sugar and free of synthetic pesticides, herbicides and fertilizers. Uncle Matt's Organic juice is also a great source of essential nutrients on-the-go containing vitamin C, vitamin D, potassium, folate and phosphorus. In addition to orange juice, Uncle Matt's juices include apple, grapefruit, lemonade, orange-tangerine and orange-mango.
Uncle Matt's Organic is a family-owned business with expertise that dates back four generations. Each generation of growers carried on the tradition, honing the initial growing philosophy, which advocates stewardship of the soil as the means to producing the healthiest, most nutritious crops possible. Uncle Matt's Organic believes that less toxins in the environment and less toxic residues are ultimately what is best for everybody, especially the food we consume. Their philosophy is based on the idea that building healthy soils will yield a healthier tree. The company is committed to supporting family farmers and to helping farms convert to organic and embarking on long-term, sustainable strategies to eradicate Citrus Greening Disease.
The new packaging will be in-store mid-April. For more information about Uncle Matt's Organic, visit http://www.unclematts.com.
About Uncle Matt's Organic
Uncle Matt's Organic is a Florida-based, family-owned company offering premium quality organic citrus juices and organic produce. All Uncle Matt's products have no synthetic additives or preservatives. Produce and finished products are produced under the strict regulation and guidelines of Quality Certification Services, the largest and most respected organic certifier in Florida. Products are available in health food stores and at Whole Foods and other supermarkets nationwide. The company is an active member of Organic Trade Association (OTA) and supports the Organic Farming Research Foundation and the Rodale Institute. To learn more visit http://www.unclematts.com or join the community on Facebook at http://www.facebook.com/unclematts.
###