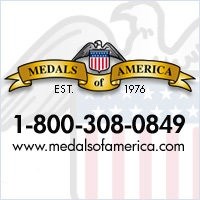 Greenville, SC (PRWEB) September 02, 2013
Medals of America is known for producing new designs that keep customers coming back for more. The high-quality material in these new tactical t-shirts is cool and comfortable and all of the shirts and apparel at Medals of America come with a lifetime guarantee. The new professional designs are appealing and honoring to the United States Armed Forces personnel in a way that both veterans and active duty will appreciate these t-shirts. Medals of America's t-shirts are very popular for military personnel and their families and this is a great way to express their dedication to the military branch of choice.
Medals of America is known as the top-selling military medals company in America. They also sell military ribbons, shadowboxes, apparel and military gear. They are actively producing new designs and new products to meet the demands of their customers. Medals is very supportive to the military community and have a great blog on their main website at http://blog.medalsofamerica.com/.
About Medals of America
Medals of America is the premier source for military dog tags, army unit patches, medals, badges, military ribbons, patches, rank, rates and insignia, as well as custom embroidered clothing. We're also proud to offer our exclusive rack builder, military medals builder and custom display case builder.
Veteran owned and operated for more than 36 years! Our mission is simple - we want every veteran and service person to display the medals our grateful nation awarded them. Anything we can do to have all the great Americans who served their country in the Military Forces display their award will enrich future generations by these symbols of duty, honor and country.
Medals of America
114 Southchase Boulevard
Fountain Inn, SC 29644
800-308-0849