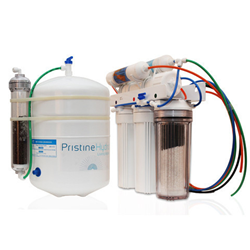 We Are the Industry Leader in Pristine Under Counter Water Systems
New York, NY (PRWEB) May 03, 2016
PristineHydro™ enters New York City campaigning their Under Counter Water System (http://www.pristinewaterfilters.com/). These campaign efforts are the beginning of a coast to coast effort in bringing awareness to poor water quality and what can be done about it.
Water quality is measured by several factors, such as the concentration of dissolved oxygen, bacteria levels, the amount of salt (or salinity), or the amount of material suspended in the water (turbidity). In some bodies of water, the concentration of microscopic algae and quantities of pesticides, herbicides, heavy metals, and other contaminants may also be measured to determine water quality.
Although scientific measurements are used to define water quality, it is not a simple thing to say "that water is good" or "that water is bad." So, the determination is typically made relative to the purpose of the water – is it for drinking or to wash a car with or for some other purpose?
Poor water quality can pose a health risk for people. Poor water quality can also pose a health risk for ecosystems.
There are many more contaminants found in the water that is being consumed. Learn more about PristineHydro's™ 10 Stage Process for their Under Counter Water System (http://shop.pristinewaterfilters.com/) and begin removing these harmful contaminants from your drinking water.

Stage One - 5 Micron Filter
Stage Two - KDF
Stage Three - Hydroxy Apatite
Stage Four - Coconut Based, Acid-Washed, Surface-Enhanced Activated Carbon
Stage Five - Reverse Osmosis
Stage Six and Seven - Dual Deionization Cartridges
Stage Eight - Re-Mineralization Cartridge
Stage Nine - Coconut Carbon Filter
Stage Ten - Vortex / Reprogramming / Recharging
Pristine Water Filters delivers to the following geographical areas:
Alabama, Alaska, Arizona, Arkansas, California, Colorado, Connecticut, Delaware, District of Columbia, Florida, Georgia, Idaho, Illinois, Indiana, Iowa, Kansas, Kentucky, Louisiana, Maine, Maryland, Massachusetts, Michigan, Minnesota, Mississippi, Missouri, Montana, Nebraska, Nevada, New Hampshire, New Jersey, New Mexico, New York, North Carolina, North Dakota, Ohio, Oklahoma, Oregon, Pennsylvania, Rhode Island, South Carolina, South Dakota, Tennessee,Texas, Utah, Vermont, Virginia, Washington, Washington DC, West Virginia, Wisconsin, Wyoming, Canada, Europe, and virtually anywhere on the planet.
PristineHydro™ (https://www.youtube.com/watch?v=A4j4uHquBPs) has also been featured on The Discovery Channel Via Newswatch Tv.
PristineHydro™ delivers water filters for the home and businesses making healthy water accessible to all at cost levels and form factors. The professionals at PristineHydro™ are highly informed regarding the history of water and how these products can enhance the consumer's life.
It is no wonder so many professional athletes and health enthusiasts are turning to PristineHydro™ for their hydration needs.
For more information please visit http://www.pristinewaterfilters.com or by calling toll free (888) 240-1175