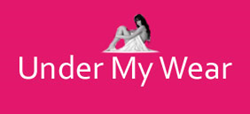 London, UK (PRWEB) October 31, 2014
With an aim to provide only high-end undergarments, UnderMyWear has recently announced the arrival of fresh collection of Chantelle bras in the UK at great prices. The company houses some of the finest Chantelle bras that are highly elegant yet practical, giving complete support and thus gives the wearer a perfect sculpted figure.The company deploys cutting edge technology to design the bras which minimizes the back fat and hides the ugly bulges around the midriff and thus provides a perfect fit and figure to the wearer. The exquisite design and modish looks make the Chantelle bras supreme example of comfort and beauty. These elegant bras come in a variety of fabrics from cotton with Lycra, pattern, design, and texture.
UnderMyWear also presents Calvin Klein Underwear in UK at effective prices. They store a vast range of Calvin Klein products that are elegant and comfortable to wear on a daily basis. In addition to Calvin Klein underwear, the company also offers Sloggi men underwear and women underwear, thermal underwear, triumph bras, fantasia underwear, passionate bras, and many more.
Talking more about themselves, one of their representatives stated, "Under My Wear now offers you the most comfortable range of Calvin Klein Underwear in UK. It is for sure that once after wearing, you will be going to experience the utmost comfort. The best quality products are offered at our store, you will never face any kind of complaints. If such happens, it will be resolved at the earliest possible time. You can buy either Calvin Klein Bottoms, Calvin Klein Cotton Trunk, or choose the one that best suits your needs. So, what are you waiting for? Order now! We have a massive collection of innerwear."
About UnderMyWear
UnderMyWear UK, an online undergarment store is one of the best websites offering underwear in the UK. Their extensive range of underwear products in UK is of the best quality and standards. Adding more value to their customer satisfaction, they provide services of the best quality and up to the customer expectation. UnderMyWear is a secure online store offering customers a safe and fast transaction. Their great stock makes sure that there is no shortage in products of customers' choice. The products are delivered to customers' doorstep and partner will really love you for ordering some branded items from them.
For more information, please visit- http://www.undermywear.co.uk