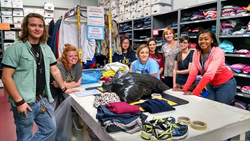 It's impossible to describe how much good the Hope Center has provided to families in Oklahoma, and we're launching this charity drive to ensure they are able to continue their mission
Oklahoma City, OK (PRWEB) April 08, 2016
Dumas Insurance Agency, an Oklahoma-based insurance firm that provides coverage to businesses and families throughout the greater Oklahoma City area, is announcing a joint charity effort with the Hope Center of Edmond organization aimed at ensuring underprivileged Oklahoma residents have access to critical services.
For over a decade, the Hope Center of Edmond has enjoyed the combined support of churches, businesses, and individuals from all over Oklahoma, and uses donations gathered from these sources to provide food, shelter, clothing, utility assistance, prenatal services, and emergency rent payment programs for underserved families in the area.
"It's impossible to describe how much good the Hope Center has provided to families in Oklahoma, and we're launching this charity drive to ensure they are able to continue their mission," explains Larry Dumas Jr., founder and director of Dumas Insurance Agency.
To help publicize the Hope Center charity event in Oklahoma City, the Dumas Insurance team is constructing an online social media portal and sending out an email awareness bulletin to community and business leaders in the region. The Dumas team will also be publishing a full page feature article outlining the charity effort in the next edition of "Our Hometown," an online circular produced monthly by the firm.
Dumas and his team aren't stopping with the Hope Center charity drive, however, and plan to work with at least six new Oklahoma City charities or non-profits over the next year as part of an ongoing community improvement effort.
Readers who want to join the Dumas Insurance team in their charity drive to benefit the Hope Center of Edmond are invited to make a personal contribution to the cause from this page: http://www.dumasinsuranceagency.com/Providing-H.O.P.E.-During-Emergencies_7_community_cause. Readers interested in learning more about other local non-profits and charities supported by Dumas Insurance Agency can review the firm's full Community Cause list here: http://www.dumasinsuranceagency.com/community-cause.
About Dumas Insurance Agency
The goal of the Dumas Insurance Agency team is to provide the best insurance and financial services in the industry. Their number one job is to protect the current assets customers have worked so hard for, and to help them invest so that they can retire with comfort and security. The success of the Dumas Insurance Agency team is measured in both customer satisfaction and in real value added to client assets. To speak with a helpful and knowledgeable representative from Dumas Insurance Agency, browse to http://www.dumasinsuranceagency.com/ or call (405) 751-4865.