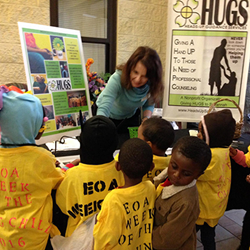 Heads-Up is a dynamic organization committed to the betterment of our community, and this charity effort is intended to ensure their services remain available to the families that need them
Savannah, GA (PRWEB) June 14, 2016
Old Savannah Insurance Agency, a Savannah-based insurance firm that provides coverage to communities throughout the greater Chatham County area, is joining the Heads-Up Guidance Services organization in a charity drive that promises to improve outcomes for underprivileged residents in the region.
Heads-Up Guidance Services works to augment social programs by partnering with other organizations that are unable to provide counseling services to clients. HUGS is presently working with several Savannah-area charities to provide outreach counseling, including Austin House, Performance Initiatives, YouthBuild Savannah, e-CONNECT, and Old Savannah City Mission.
"Heads-Up is a dynamic organization committed to the betterment of our community, and this charity effort is intended to ensure their services remain available to the families that need them," says James Grusheski, founder and manager of Old Savannah Insurance Agency.
In an effort to gather support for HUGS and advocate for continued counseling services for underprivileged Georgians, Grusheski and the Old Savannah team are creating an online social media presence and initiating an email bulletin for nearby residents. The team will also be producing a feature article outlining the charity effort in the upcoming issue of "Our Hometown," the firm's monthly online local interest magazine: http://www.oldsavannahinsuranceagency.com/Our-Hometown-Magazine_41.
Old Savannah Insurance has recently joined the "Agents of Change" movement, and as such will continue to select and support another new Georgia-based charity to work with every sixty days over the months ahead.
Readers interested in joining the Old Savannah Insurance Agency charity effort to assist the Heads-Up Guidance Services organization are invited to visit the following page and make a contribution to the cause: http://www.oldsavannahinsuranceagency.com/Giving-HUGS-Saving-Lives_24_community_cause. Readers who want to see information on charities and non-profits Old Savannah Insurance has worked with in the past are welcomed to peruse the firm's complete Community Causes list here: http://www.oldsavannahinsuranceagency.com/community-cause.
About Old Savannah Insurance Agency
Old Savannah Insurance Agency's team mission is to provide the best insurance and financial services in the industry. Their number one job is to protect the assets for which their customers have worked so hard, and to help them invest so they may retire in comfort. Old Savannah's success is measured by customer satisfaction and the added value brought to their lives. To speak to a helpful and knowledgeable representative from Old Savannah Insurance Agency, please visit http://www.oldsavannahinsuranceagency.com/ or call 912-352-7620.