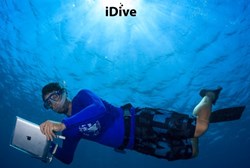 San Francisco, California (PRWEB) October 22, 2013
The world of mobile technology is always in flex. Innovations in the industry seem to be revealed on a daily basis, as inventors around the world come up with new ways to utilize these products. It is rare, however, for mobile phones and tablets to gain access to new terrain. In this morning's Apple Keynote presentation, a sneak peek at the iDive Housing – an underwater iPad case which can be used with full-functionality deep beneath the sea – was revealed in a brief video.
Setting the stage for the stunning reveal of iDive and several other adaptations of the iPad during the October Keynote address, Tim Cook said, "What's most rewarding and inspiring to us is all of the amazing ways our customers are using their iPads."
"We designed iPad to be the best tool for the things that you do most often," he went on to say, "But honestly, we could have never imagined all of the ways that our customers would be using them."
Follow this link to watch the full Apple Keynote: http://www.apple.com/apple-events/october-2013/.
The iDive Housing was first developed at the King Abdullah University of Science and Technology (KAUST) in the Red Sea Research Facility. Marine biologists and other seafaring researchers at this center had grown weary of antiquated recording techniques, which typically were bound to paper and pen. They believed that mobile technology provided the answer.
They designed and developed the iDive Housing which was well-received by other researchers and scuba enthusiasts alike. In fact, just a few months ago, the iDive was the focus of the Bay Area Hackathon ScubaHack.
Since the keynote, the internet has been abuzz about the potential of underwater iPads, and the iDive team has been very excited. An iDive representative said, "This is all very exciting for us as an early-stage startup, and hopefully also for the greater water-loving communities around the world! Stay tuned for more from our corner later this year."
For more information about the iDive Housing, visit: http://www.idivehousing.com/.