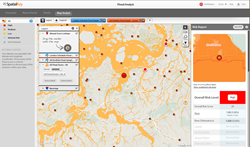 Colin Panzetta: Our use of SpatialKey has improved the way we analyse and make underwriting decisions.
London, UK (PRWEB) January 28, 2015
SpatialKey's expertise in delivering intuitive, speed-of-thought risk analytics and visualizations has enabled Catlin to write better risks and identify new opportunities. The SpatialKey Flood Underwriting application is built specifically for underwriters and helps them to evaluate flood exposure, avoid adverse flood accumulations and gain insights surrounding the quality and correlation of prospective risks relative to their portfolio.
"Our use of SpatialKey has improved the way we analyse and make underwriting decisions. We write new business with greater confidence and understanding of our flood exposure, creating competitive advantage and lower claims costs," says Colin Panzetta, Senior Class Underwriter at Catlin.
SpatialKey's flood solution integrates expert commercial flood maps across the globe, currently covering Europe, Asia, U.S. and Australia. This solution delivers purpose-built applications, tailored to underwriting and exposure management workflows, that provide focused insights to help insurers manage flood accumulations, develop views of risk and accelerate underwriting decisions.
"We are pleased to have been selected by Catlin to enhance and accelerate their underwriting decisions. We look forward to working with them and learning from them to enhance our solution and the value we can collectively deliver to the market." says Bret Stone, Chief Operations Officer at SpatialKey.
VIDEO: SpatialKey Flood Underwriting Demo
###
About SpatialKey
SpatialKey is a leader in insurance analytics and visualization, delivering real business value via purpose-built applications. SpatialKey Insurance Intelligence integrates industry-leading data solutions with an unmatched user experience and differentiated geo-spatial and business intelligence capability. Through speed-of-thought analytics and agile visualizations, SpatialKey helps insurers understand risk accumulations and composition, respond to live catastrophe events, and manage exposure proactively at the point of underwriting. As insurers innovate to deliver value to their customers and seek to optimize their risk portfolio, SpatialKey will continue to work with them to deliver revolutionary analytics. For more information, visit http://www.spatialkey.com.
About Catlin Insurance Company (UK) Limited
Catlin Insurance Company (UK) Limited is a subsidiary of Catlin Group Limited. The Catlin Group, headquartered in Bermuda, is an international specialist property/casualty insurer and reinsurer. Catlin has established operating hubs in London, Bermuda, the United States, the Asia-Pacific region, Europe and Canada. Through these hubs, Catlin works closely with policyholders and their brokers. The hubs also provide Catlin with product and geographic diversity. Altogether, Catlin operates more than 50 offices in 25 countries. Catlin shares are traded on the London Stock Exchange (ticker symbol: CGL). More information about Catlin can be found at http://www.catlin.com.