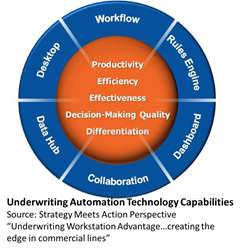 "[An underwriting workstation] is able to deliver the business capabilities needed to improve underwriting productivity, efficiency, effectiveness, and decision-making quality, and to create differentiation in the market." - Deb Smallwood
(PRWEB) March 26, 2014
ValueMomentum, Inc., a provider of Software & Services to Insurance Carriers, today announced it will host a webinar with PropertyCasualty360.com and Strategy Meets Action (SMA) Founder Deb Smallwood on April 8, 2014 at 2pm ET, for commercial lines insurers seeking to achieve underwriting distinction. Attendees will learn how to improve underwriting productivity and decision-making quality to drive underwriting differentiation.
Deb Smallwood, who is widely recognized for her expertise in helping insurance companies re-think, re-energize, and re-tool their IT plans and technology investments, will share insights from a new SMA Perspective titled "Underwriting Workstation Advantage… creating the edge in Commercial Lines".
Deb calls for a reality check stating "For complex risks, analyses and evaluations are based on credit, hazards, financials, and loss experience information which exists outside the walls of the policy administration system. Therefore, typically the automation of these more sophisticated decision making processes takes place outside the functional capabilities of the policy admin systems."
Deb notes that an underwriting workstation "is able to deliver the business capabilities needed to improve underwriting productivity, efficiency, effectiveness, and decision-making quality, and to create differentiation in the market."
ValueMomentum's Chief Product Officer Anant Iyer will share ValueMomentum's DealFoundry™ solution's technology capabilities – a next-generation underwriting workstation that allows underwriters to optimally utilize their experience and time, ultimately driving profitable growth.
DealFoundry™:

Presents underwriters with the right data at the right time and provides seamless access to all aspects of a deal to facilitate appropriate action
Routes accounts into distinct processing tasks based on underwriting complexity, risk level and size of the exposure
Complements policy systems and leverages existing investments
"ValueMomentum's DealFoundry™ solution aligns well to the required business and technology capabilities. It unifies work, enabling the underwriter to use a functionally rich desktop to view, assess, and price a risk, policy, or account", notes Deb, in the SMA Perspective.
Following the webinar, attendees will receive a complimentary copy of the SMA Perspective on "Underwriting Workstation advantage...creating the edge in Commercial Lines" courtesy of ValueMomentum.
You can learn more about DealFoundry™ at http://www.valuemomentum.com/dealfoundry.html.
About ValueMomentum
ValueMomentum provides Software & Services to Insurance, Financial Services and Health Payer firms. Our Customers like working with us because we deliver value to their initiatives, thereby, driving their momentum. ValueMomentum does this by applying a time-tested formula of combining strong technology expertise with deep industry experience.
ValueMomentum's Software for Insurance Carriers includes iFoundry™ Rating Engine, iFoundry™ Product Configurator and DealFoundry™ Underwriting and Portal.