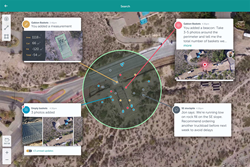 The historical documentation we are able to compile from the product helps reduce claims, quantify materials and production, and helps build a solid jobsite portfolio.
Seattle, Washington (PRWEB) April 18, 2017
Seattle-based startup Unearth released their groundbreaking construction collaboration software today, an innovative platform that merges aerial and ground-level data to form a common operating picture for construction teams. Founded by a trio that helped build the software company buuteeq, they were inspired to create Unearth because of construction's consistently declining productivity rates and a lack of innovation in construction software. Instead of opting to improve on areas that already get a lot of attention, like document management, the team decided to focus on merging all construction data sources into a comprehensive snapshot of project status.
"When you look at software in the construction sector, you'll either see folks replacing existing pen and paper processes with digital forms, or you see advanced remote sensing data sequestered among a few tech-geeks working in an office far from the jobsite," said Brian Saab, CEO, Unearth. "We democratize all the information captured on a construction project and use it to jumpstart real-time discussion and decision-making across remote offices and the jobsite. Our software literally changes how information flows, how decisions are made, and how projects are completed."
Unearth carves a unique niche in the construction software marketplace. By organizing all digital information within a common platform, they create a new frame of reference for every member of a construction team, as well as project stakeholders. On a day-to-day basis, superintendents, project managers, and subcontractors easily coordinate build activities, direct supply deliveries, and monitor safety. For weekly and monthly progress updates, the platform offers spatial and distance measurement tools to determine exactly what has been built. Over the life of a project, the activity feed stores a record of all conversations, pictures, and measurements by location, so precise build evidence can be retrieved and analyzed whenever the need arises.
"The ability to have live interaction from the office to field and field to the office utilizing Unearth has streamlined our communication process. It allows us to be more efficient, better prepared, and more profitable," said Casey Dougherty, Construction Manager, IMCO Construction. " The historical documentation we are able to compile from the product helps reduce claims, quantify materials and production, and helps build a solid jobsite portfolio."
The initial product launch was informed by real-world testing of the software on a wide variety of jobsites managed by builders, contractors, and facilities with annual revenues between $20 million and $2 billion. As Unearth grows, they're looking forward to exploring advances in artificial intelligence, computer vision, and machine telemetry to drive productivity growth and automate progress tracking. Their most important focus, however, is the customer.
"We're thrilled with our initial customer feedback," said Amy Hutchins, Chief Product Officer, Unearth. "Their help and ideas have accelerated our ability to provide a product that solves fundamental problems within the construction industry. Our product team's talent, paired with our customer-centric approach, have proven to be a winning combination. It will drive our continued success of providing breakthroughs in the ways our customers can be successful."
For more information, visit the Unearth product page or request a demo online.