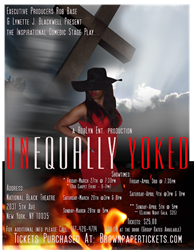 A Tale of Love, Deceit & Shenanigans....
New York, NY (PRWEB) March 18, 2015
WHAT HAS FRANKLIN REGIS GOTTEN INTO? In Unequally Yoked!, life is proving to be quite a challenge for him as the newly appointed Pastor of the Church of Genesis to Revelations. Saddled with an unruly flock, cuckolded by a dazzling new wife with unholy aspirations and faced with saving a family legacy that is quickly unraveling, Pastor Regis finds himself stuck between a rock and a hard place.
Unequally Yoked! is a funny and poignant modern day morality tale about betrayal, forgiveness and transformation. Blackwell's a new voice in the industry states, "This play has brought me so much joy, It has challenged me, opened my thoughts to new horizons and given me a different perspective on life. Blackwell, met her producing partner Rob Base when she performed with the multi-platinum selling recording artist. "I have known Lynette for over 20 years and have always been impressed with her," Base said. "The potential that I see in her stage play Unequally Yoked! is immeasurable, so my coming aboard as Executive Producer was inevitable."
WHO'S WHO....
ROB BASE (Producer) One half the 1980s hip-hop duo Rob Base and D.J. E-Z Rock, Rob Base is a multi-platinum selling artist who hails from Harlem, NY. His chart topping hits have included "It Takes Two," "Get On The Dance Floor," and "Joy and Pain." The song "It Takes Two, has been featured in commercials nationally and Rob Base continues to tour and has been seen on the hit BET show "The Game" The Queen Latifah Show and Good Day NY, just to name a few.
LYNETTE J. BLACKWELL (Playwright, director, producer) is a graduate of SUNY Old Westbury and is a writer, director, dancer and Choreographer. Blackwell has worked with R&B group Intro and Hip Hop Artist and has graced the stage of the Historic Apollo Theater and appeared on Showtime at the Apollo.
RALPH MCDANIELS (Red Carpet Host) A NYC native, graduated from NY Institute of Technology and established the groundbreaking television show Video Music Box. Over the last 3 decades McDaniels has engraved himself into Hip Hop history, through television, film, radio and fashion.