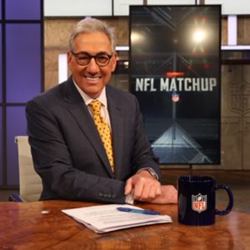 This will be an unforgettable event. UNICO will celebrate an all-star group of distinguished honorees and raise funds to support our scholarships & charitable assistance programs, including mental health wellness and cancer research.
FAIRFIELD, N.J. (PRWEB) May 22, 2023
UNICO National, the largest Italian American Service Organization in America, announced business leader Anthony Capuano, President & Chief Executive Officer of the iconic hospitality company, Marriott International, Inc., will receive the Distinguished Business Leadership Award. Joe Moglia, former CEO & Chairman of TD Ameritrade and head football coach of Coastal Carolina University, will present the award to fellow business leader Mr. Capuano. Mr. Moglia, the 2022 recipient of the UNICO National Presidential Award for Distinguished Leadership, and James Pitaro, ESPN Chairman, also a past UNICO National honoree, are the honorary chairmen of the UNICO National 100th Annual Convention.
"UNICO National is very excited about our 100th Annual Convention, proudly presented by Inserra ShopRite Supermarkets, which will be an unforgettable event. We have an all-star group of distinguished honorees that spans from nationally known figures who have led international companies to local heroes tirelessly serving their communities. We are particularly proud to recognize our military leaders who defend our nation and our democracy," said UNICO National Executive Vice President Cav. Ralph Contini.
Army Generals Robert Louis Caslen Jr. and Guy "Tom" Cosentino will be recognized for their distinguished military service to the nation. The Louis Attilio DeFillipo American Hero Award will be presented to General Cosentino and the Anthony Fornelli American War Veteran Award will be presented to General Caslen.
Sal Paolantonio, ESPN national correspondent, will host the black-tie Awards Gala on July 29. Mr. Paolantonio primarily covers the National Football League for ESPN's SportsCenter, Sunday NFL Countdown, NFL Live and Fantasy Football Now. He also hosts the long-running X's and O's weekly preview show, NFL Matchup. U.S. He is a seven-time Emmy Award winning reporter, author of four books, and is the longest tenured studio host and reporter on ESPN. Before his television and journalism career, Paolantonio was a surface warfare officer in the U.S. Navy where he was awarded the United Nations Meritorious Service Medal.
Lieutenant General Robert Louis Caslen, Jr. U.S. Army (Ret.) is a veteran who honorably served our military for 43 years. His military career culminated in 2018 as the 59th Superintendent/President of the U.S. Military Academy at West Point. Under his direction as Superintendent, the Academy was recognized as the number one ranked public college in the Nation by Forbes Magazine and the number one ranked public college by U.S. News and World Report. Prior, General Caslen served as the chief of the Office of Security Cooperation in Iraq, where he served as the senior military commander in Iraq after the drawdown of U.S. and allied forces in 2011.
Brigadier General Tom Cosentino, U.S. Army (Ret.) currently serves as the Chief Operating Officer of the Business Executives for National Security. His Army career included numerous operational and strategic assignments over a 30-year span highlighted by serving as the 28th Commandant of the National War College, the premier institution for the education of strategic leaders for the U.S. Military, other departments of the U.S. Government, and 29 allied nations. Prior, General Cosentino served as Deputy Director for Political and Military Affairs, U.S. Joint Staff, providing military advice to the Chairman of the Joint Chiefs of Staff and the Secretary of Defense.
Gunnery Sergeant Christopher A. Obdyke will also be recognized for his distinguished military service, as well as his law enforcement contribution to our nation. He will receive the John Basilone Freedom Award. During his service in the U.S. Marine Corps, Gunnery Sergeant Obdyke served in numerous overseas posts with distinction. After his honorable discharge, he joined the New York City Police Department and was assigned to the 75th precinct in Brooklyn as a police officer. He worked on many high visibility assignments, including rescue/recovery during the September 11 attack on New York and following the ravages of hurricane Katrina in New Orleans. In 2005, he was promoted to detective. He later reenlisted in the Marine Corps Reserve where he worked in intelligence and was deployed to several critical geo-political areas, including Iraq and Afghanistan.
Congressman John Mica will be recognized for his distinguished public service leadership to our nation. Congressman Mica represented Florida's 7th congressional district in the U.S. House of Representatives from 1993 to 2017. He was the chairman of the Transportation & Infrastructure Committee and is recognized as one of the nation's leaders in transportation. In 2001, while the chairing Aviation Subcommittee, he helped stabilize America's aviation industry following the September 11 attack. Under his leadership, the Aviation and Transportation Security Act was passed and placed on President Bush's desk just days after the terrorist attack. He also was the chairman of the House Oversight Committee's subcommittee on Government Operations and was a leader on the U.S. Capitol's Visitors Center creation. He served as the chairman of the Italian American Delegation in the U.S. Congress where he was a valuable leader of the Italian American community and promoted the US- Italy relationship.
Richard DiLiberto, Jr., Esquire will receive the Philip Mazzei Americanism award. He is an accomplished attorney and former member of the Delaware House of Representatives where he was a champion of free speech. Mr. DiLiberto is an active member of the Italian American community. In addition to his involvement with UNICO, he was the chairman of the Delaware Commission on Italian Heritage and Culture.
Others who will be recognized during the convention include local honorees who exemplify UNICO's motto of Service Above Self. They are altruistic individuals who routinely volunteer and support their communities and beyond. Sister Bernadette Mackay will receive the Antonio R. Rizzuto Award for her unyielding service to her parishioners, community, and others in need. Sister Bernadette has also led missions to the Dominican Republic, where she worked tirelessly to establish schools and to provide access to healthcare, clean water, plumbing, and paved roads in distressed communities. In addition to caring for the people's physical, Sister cared for their spiritual needs.
Dr. Peter Cognetti will be recognized for his exemplary humanitarian work, including serving those in need domestically and abroad. Dr. Cognetti will be presented with the Joseph P. Cianci Award for his countless hours of service, highlighted by his volunteering of his medical services to those in need following the hurricane Katrina and the earthquake in Haiti. Joan Tidona, a longtime UNICO supporter and former educator who taught for over forty years, will receive the Dr. Anthony P. Vastola Award. Mrs. Tidona is well known for many years of effective leadership of the UNICO scholarships program, which awards numerous scholarships each year. She is a diligent worker on behalf of UNICO's nonprofit and service-based mission, as well as an actively engaged member of her Rutherford, New Jersey community where she promoted quality of life issues on behalf of the residents.
Each year, the UNICO National Convention assembles hundreds of prominent Italian Americans across the nation and attracts significant media attention. The Italian American Awards Gala is the featured event of the convention. Attended by civic, business, media and government leaders, the gala celebrates the achievements of Italian Americans in the U.S. The nation's more than 16 million Italian Americans are interwoven into the fabric of the U.S. and have significantly contributed to all fields, including the arts, entertainment, sports, business, law, science, medicine, technology, national defense, and public service.
The 100th Annual Convention will be a historic event. Bringing the UNICO National 100th Annual Convention to Fort Myers, Florida is also an effort to support the rebuilding and revitalization of the area following the destruction caused by Hurricane Ian. UNICO, with chapters located across the nation and in Florida, will send its members to the area to help drive the local economy and recovery of the region.
This year's award recipients join a distinguished group of UNICO honorees who exemplify the best of the Italian American community. Past UNICO honorees include sports greats Dan Marino, Phil Esposito, Joe Montana, Joe Torre, Mario Andretti, Geno Auriemma, John Calipari, Tommy Lasorda, public service leaders General Anthony Zinni, Speaker Nancy Pelosi, science and medicine leaders Dr. Anthony Fauci, Dr. Robert Gallo, and Dr. Domenico Praticò, as well as others who have excelled in their respective fields and contributed to the United States. In 2024, UNICO will honor Ralph LaRossa, President & CEO of Public Service Enterprise Group Inc. (PSEG), at its 101st Annual Convention in New Jersey.
The gala supports the important nonprofit mission of UNICO. Founded in 1922 on the principle of Service Above Self, every year UNICO provides scholarships and charitable assistance totaling approximately one million dollars. UNICO supports mental health wellness, cancer research and prevention, food banks, shelters, and other local community needs. UNICO also preserves the heritage and culture of Italian Americans and serves as a link promoting closer relations between the United States and Italy.