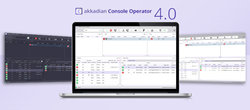 Starting August 1st, akkadian Console Operator pricing will be reduced to $995 per console.
New York, New York (PRWEB) July 28, 2015
Akkadian Labs, a leading provider of Unified Communications and Collaboration (UCC) solutions, proudly announces the upcoming release of its award-winning console operator, akkadian Console Operator (aCO) version 4.0. Along with this new release, Akkadian Labs will be reducing pricing for the software.
"We are very excited about the new features and additional ease-of-use version 4.0 will provide our clients," said Kris Zimmerman, Akkadian Labs Executive Vice President of Sales.
Features will include a new, modernized UI (user interface) that is sleek, yet familiar. The UI will provide improved call handling, enhanced call information and more. Additional features will include hunt group support enhancement, support for Cisco Unified Communications Manager version 11 and management server support.
"We are also excited to announce the plan to provide multi-vendor support for aCO, as well as a centralized (server-based) solution in the 4.x release road-map," said Tom Bamert, C.T.O. of Akkadian Labs.
"We are reducing the price of aCO to make it even more competitive in the marketplace," said Zimmerman. "This will enable our partners to position what many feel is the best console on the market at comparable pricing levels, and offer existing and prospective clients continued pricing flexibility."
Starting August 1st, pricing will be reduced to $995 per console.
About Akkadian Labs
Located in New York City, Akkadian Labs focuses exclusively on creating innovative collaboration software that maximizes business results by improving the way people communicate and work together. For more information visit our LinkedIn page.