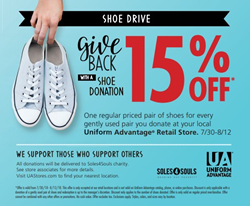 To know that we can create meaningful impact around the globe by simply collecting and donating what is otherwise destined for the trash is a really great feeling
FORT LAUDERDALE, Fla. (PRWEB) July 18, 2018
One person's unwanted shoes can help provide meaningful opportunities that many in developing nations need, which is why Uniform Advantage has launched a shoe drive to collect pairs of new or gently-worn shoes.
The shoes will be delivered to Soles4Souls–a non-profit social enterprise that creates sustainable jobs and provides relief through the distribution of shoes and clothing around the world. Founded in 2006, the organization has distributed more than 30 million pairs of new and gently-worn shoes in 127 countries.
The World Bank estimates that approximately 767 million people live on less than $1.90 per day. Many people living in extreme poverty simply do not have access to stable employment.
Soles4Souls' micro-enterprise programs offer a long-term solution to poverty through job creation in places like Haiti, Honduras and Sierra Leone. They also give a second life to unwanted shoes, keeping them out of landfills and protecting the environment.
"Uniform Advantage is a strong supporter of Soles4Souls' mission," said Karen Meany, Vice President of Retail Store Purchasing. "To know that we can create meaningful impact around the globe by simply collecting and donating what is otherwise destined for the trash is a really great feeling."
The shoes are sold for an average of $1 per pair to non-profit partners in developing countries, that provide business training to local entrepreneurs. The entrepreneurs purchase the shoes and are then able to start businesses of their own selling the product in their local marketplaces. This allows entrepreneurs the opportunity to earn a sustainable income, and ultimately purchase necessities like food, shelter and education.
The income generated by selling just one pair of shoes in Haiti can provide up to five meals for a family in need, whereas 30 pairs sold by an entrepreneur in Honduras can provide up to a year of schooling for a child. Revenue generated by Soles4Souls' micro-enterprise operations funds the organization's free distribution programs, that provide new shoes to people in need both in the U.S. and around the world.
"Millions of pairs of shoes lay idle in people's closets," said Karen Meany. "Give those to Soles4Souls instead, and know that you are taking a step to help disrupt the cycle of poverty around the globe."
Vice President of Retail Operations, Laura DiFeterici, spoke highly of this opportunity, "We at Uniform Advantage have the privilege of serving those who serve others, it's what we do. With this shoe drive, we have an outstanding opportunity to serve many other folks here in our community and around the world by supporting this important charity."
Between July 30th and August 12th, bring your new or gently-worn shoes of any kind to your local Uniform Advantage retail store.
About Uniform Advantage
Uniform Advantage has represented style, quality and, above all, customer satisfaction for more than 30 years. As the first division of UA Brands, the chain was launched with a single South Florida store in 1985. Today, the company operates 29 retail locations in key markets across the U.S.; e-commerce and print catalog divisions; plus, designs and manufactures its own proprietary healthcare apparel lines. The company's corporate office is based in Fort Lauderdale, Florida with a distribution center near Atlanta, Georgia. Learn more at http://www.UniformAdvantage.com or by calling 800-283-8708.
About Soles4Souls
Soles4Souls disrupts the cycle of poverty by creating sustainable jobs and providing relief through the distribution of shoes and clothing around the world. Headquartered in Nashville, Tennessee, the organization repurposes product to supply its micro-enterprise, disaster relief and direct assistance programs. Since 2006, it has distributed more than 30 million pairs of shoes in 127 countries and generated over $250 million in economic impact. A nonprofit social enterprise, Soles4Souls earns more than half of its income and commits 100% of donations to programs. Visit soles4souls.org for more information.