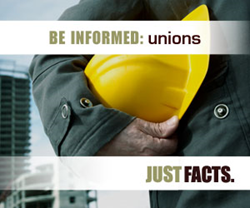 Supported with over 600 footnotes of highly credible primary sources
(PRWEB) February 06, 2015
Just Facts, a leading resource for public policy facts, has published a scrupulously documented trove of facts about unions and labor law. This resource contains hundreds of facts about the legal aspects and economic ramifications of labor unions.
Labor unions affect nearly all Americans, regardless of whether or not they belong to a union or directly deal with one. Far beyond high-profile cases where Twinkies disappear and Major League Baseball games are cancelled, labor unions have wide-ranging impacts on employees, businesses, tax levels, consumer prices, the general economy, and much more.
Just Facts illuminates this controversial and multifaceted issue through the use of verifiable facts about:

Organizing and Decertifying
Politics and Activism
Secret Ballot Elections
Corporate Campaigns
Card Check
Bargaining and Negotiation
Constitutional Rights
Compulsory Unionism
Strikes, Boycotts, Picketing, and Lockouts
Economic Effects
Membership Rates
And Much More
Supported with over 600 footnotes of highly credible primary sources, this research provides journalists, commentators, workers, businesspeople, students, voters, and lawmakers with facts that are vital to understanding this important issue.
This research is available at http://www.justfacts.com/unions.asp.