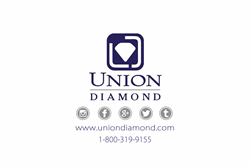 Atlanta, Georgia (PRWEB) November 28, 2015
Leading diamond jewelry designer, Union Diamond, has announced the launch of a brand new designer jewelry line, Katheryn Q. The new line is designed by Brittany Quesinberry, a GIA certified creative artist.
The Katheryn Q collection features a wide range of earrings, pendants and bracelets that are especially designed to give an organic look and feel. This collection not only makes a great addition to women's everyday wear jewelry but is also designed as great giveaways for bridesmaids as wedding favors. A GIA Gemologist graduate, Brittany Quesinberry, has a passion for gemstones and jewelry and has been working in this industry for almost a decade. With a keen eye for jewelry design and deep knowledge of gemology, Quesinberry has a 100 piece best-selling line to her credit. Her eye for gem quality and a penchant for unique gemstones, she often creates one-of-a-kind pieces using gems like Flourite, Apatite, Rutilated Quarts, Chrysoprase and Sunstone.
In addition, having worked in jewelry retain for more than eight years, Quesinberry has been interacting with customers to gain insight into the needs and desires, as well as latest trends and color combinations that clients are looking for. In keeping with all this, Quesinberry has designed the Kathryn Q collection with the most trendy color combinations, while giving each piece an organic feel and yet keeping the fun and modern look intact.
The line also includes a range of birthstone earrings, as well as pearl drop earrings. Available in different metals, including sterling silver, the latest clover design makes its presence felt in many of the designs for both pendants and earrings. The necklace line includes smokey quartz, rose inspired and aqua inspired designs, along with a range of pendants that can be bought separately to go with a thin chain to accentuate the design.
Also, the Katheryn Q line is competitively priced, starting out as low as $199 for birthstone earrings in sterling silver and the best quality gem stones. Union Diamond has launched the line with specific attention to the gifting needs during the upcoming holiday season. The company's usual range of high quality jewelry, as well as custom made pieces are also on offer during this time. A wide variety of pieces for both men and women is available online, with easy ordering, shipping and return options.
Established in 2001, Union Diamond offers one of the widest collections of diamonds and custom designed jewelry, both online and at its flagship store in Atlanta. With the highest quality diamonds and gemstones available across a wide price range, the unique pieces on offer can fit almost any budget. All diamonds offered at Union Diamond are certified by the Gemological Institute of America, the American Gem Society or the European Gemological Laboratory, and include a 30-day return policy.