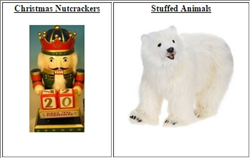 (PRWEB) December 13, 2014
World-class retailer WorldToHome.com rings in the holiday season with an impressive array of winter-themed seasonal gifts and unique products. World To Home's unique Christmas gifts and decorations include world-famous G. De Brekht carved wooden santas, decorative nutcrackers, Ne'Qwa Ornaments, Russian Nesting Dolls, and life-size stuffed animals. Looking for the perfect gift? Look no further, WorldToHome.com is sure to have exactly what you need for that special someone.
G De Brekht is world-renowned for excellent craftsmanship and stellar quality. Each limited edition G DeBrekht hand carved & painted Santa sculpture is hand-painted by a certified professional artist to ensure the utmost in quality and care. Now, even more hand-carved masterpieces are available for the holiday season. Wooden snowmen and angels are now ready to be the perfect decoration for the holiday table or mantelpiece. Each design is limited edition, ensuring that these unique works of art will only be available for a short time.
Nutcrackers have long been a staple of the holiday season, and this year is no different. Decorate your home with the perfect ensemble of nutcrackers from a suite of styles and themes. The Nutcracker Suite, Wizard of Oz, holiday-themed nutcrackers and more are available to spruce up any seasonal gathering. Made of quality woods and hand-painted to an excellent standard, these nutcrackers are sure to be the highlight of your holiday decorations. A wide array of styles is available, including King nutcrackers, soldier, santa, musical, and velvet nutcrackers.
Ne'Qwa ornaments, artfully designed by the Precious Moments company, are quickly becoming a household name in the holiday ornament decoration scene. Each is painted to a very exacting standard, and presented in a satin-lined keepsake box to ensure that each ornament is carefully stored year after year. These Ne'Qwa hand painted inside ornaments are painted in the old-fashioned style of reverse hand-painting, where the paint is applied to the inside of the ornament. Not only is this a delightfully artistic approach to holiday ornaments, but it ensures that the paint remains pristine through time.
No Russian artwork is as recognizable or symbolic as the "matreshka", or Russian nesting doll. These three or five piece dolls are hand-crafted by G. De Brekht to match the style of the old country from which they originated. The Matreshka had its origins in the villages of Russia many generations ago, when grandfathers carved the oval, oblong doll from a single block of wood, then carefully made each smaller doll from the core of the larger doll. The number of dolls and amount of details in a Matreshka measures its value, since each G. De Brekht Matreshka Russian nesting doll is hand painted.
There's no better way to bring joy to a child this Christmas than to give them a Hansa life-size stuffed animal!. With dozens of different animals to choose from, their favorite is sure to be found in the lot. Artists create each animal from portraits of the creature in its natural habitat. Most fabrics are custom designed and exclusively manufactured to our exacting specifications. The animal's "coats" are meticulously hand-cut and trimmed, never stamped out by machine. On average, there are 42 separate pieces required to make each animal. Each animal is hand finished with loving detail to give them the life-like look yet sweet face and cuddly feel that is unmistakable.
About World To Home.com:
WorldToHome.com is the premier retailer of fine luxury home decor accents, accessories and furniture. With thousands of unique home decor accessories, World To Home brings the worlds home decor products to your doorstep. Featured products include Mova Globe, lighted willow branch lights, reproduction antique phones for sale, metal wine bottle wine caddies, birdhouse mansions, and more. For more information visit WorldToHome.com.