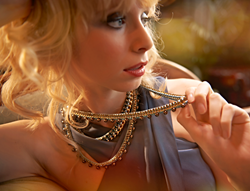 Paris, France (PRWEB UK) 6 November 2014
Scarlet Olive SARL announces the launch of its online-shop, http://www.scarletolive.com, the exclusive purveyor of Scarlet Olive designer costume jewellery.
The launch Scarlet Olive's first jewellery collection for women is inspired by the convergence of modern art and fashion. Offering a thorough attention to detail, and featuring the finest quality materials in every piece, this handmade jewellery collection includes more than 60 necklaces and bracelets from £70 to £500.
"Rich in elegance and statement, and with a whimsical flair, necklaces by Scarlet Olive often feature romance and rebelliousness in the same piece" says company founder, Rosie Hagman. "Scarlet Olive designs emerge from surprising matches and emotions, dreams and memories, love and adventures. Like its jewellery, Scarlet Olive embraces your unique world, a universe where seduction empowers your endeavours in work and play.
"Each piece by Scarlet Olive is handcrafted with high quality materials, including Swarovski elements, designed with the most alluring array of colours and textures. For the woman who indulges in this spirit, Scarlet Olive aspires to enhance her individuality."
Necklaces by Scarlet Olive emphasise an expression of femininity, strength and beauty. These sensuous colours and versatility work well for office, street and lounge wear, making Scarlet Olive jewellery the perfect choice for transitioning with ease from day to evening. Designer costume jewellery by Scarlet Olive brings style to the age we live in – where chaos and creativity converge! In luxury and elegance!
Based near Cannes, France, Scarlet Olive is a registered brand of designer costume jewellery. Scarlet Olive jewellery may be viewed at scarletolive.com.
COMPANY NAME: Scarlet Olive SARL
CONTACT NAME: Rosie Hagman
CONTACT INFORMATION: URL: http://www.scarletolive.com/contact-us/