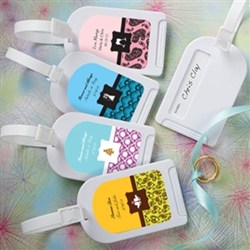 Palm Harbor, Florida (PRWEB) August 07, 2013
The leading seller of affordable wedding favors online, WeddingFavorDiscount.com, is proud to announce that they will be shipping their products to countries outside the United States.
Wedding favors have become one of the most important aspects in any wedding. Brides from around the world are looking for party favors for their weddings, bachelorette parties and bridal showers that match the aesthetics and theme of the wedding, without adding too much extra expense. WeddingFavorDiscount.com carries a large selection of wedding reception favors ranging from personalized favors to edible favors and practical favors.
To cater to the growing market of brides from around the world, WeddingFavorDiscount.com now offers worldwide shipping on all of their products. They have partnered with GlobalShopex, a trusted third-party shipping provider to allow customers from outside the United States to easily order and receive their party favors.
GlobalShopex is an international logistics company that helps U.S. companies manage their worldwide shipping process. When ordering on Weddingfavordiscount.com, customers who choose international shipping after adding items to the shopping cart will be taken to GlobalShopex cart. Customers can see their items, relevant shipping charges and time of delivery, all while enjoying the flexibility to pay with international credit cards, PayPal or wire transfers.
For questions regarding their wedding favors orders, customers should directly contact GlobalShopex at customerservice(at)globalshopex(dot)com or (786)314-7144 or visit the GlobalShopex website.
To read more about WeddingFavorDiscount.com's international shipping, click here.
WeddingFavorDiscount.com continues to provide the best shopping experience for their customers in the United States and worldwide. Customers can call 1-866-596-4596 or visit the website to get the best deal on wedding favors online.
About Wedding Favor Discount
Since 2001, Wedding Favor Discount has been serving brides with wedding and reception favors. The website has been known for their large variety of favors to suit any party, theme or budget. Customers love the great service and low prices.