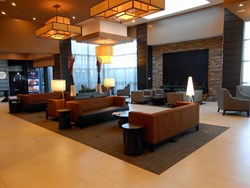 Unique Deliveries over-achieved on installation at our Embassy Suites Hotel. They received, inspected, delivered and installed furnishings for 7 floors of 162 guest rooms, common areas and restaurant seating areas in ten days. - Scott Perry, Hotel Owner
Bountiful, Utah (PRWEB) July 18, 2013
Unique Deliveries, LLC, the foremost furniture delivery, installation, and warehouse storage firm serving Interior Designers and Homebuilders in the Rocky Mountain region, recently added a Hotel Installation and FF&E Division to its repertoire of services. Designed to assist hotel owners, management, and project managers with on-time and on-task delivery, installation and warehouse storage of new furnishings, the company now provides its White Glove style service to the hotel, FF&E and hospitality industry. Their high standard of service and competency handling high value furnishings and accessories has made the company the go-to choice for high-end interior designers and homebuilders.
The company was recently featured in a news story for its exceptional work assisting the new Embassy Suites hotel in West Valley City, Utah with its preparations for opening on time. Unique Deliveries assembled and installed the majority of furnishings and artwork for 7-floors, 162 guest rooms, common areas, elevator lobbies and restaurant seating on an extremely tight deadline to ensure the hotel was able to open on time.
"Unique Deliveries over-achieved on our hotel installation. They received, inspected, delivered and installed furnishings for 7 floors of 162 guest rooms, common areas, elevator lobbies and restaurant seating areas at our Embassy Suites Hotel in West Valley, UT in 10 days over the Christmas holiday. We brought the job to them late and they finished ahead of schedule," noted hotel owner Scott Perry.
Hotel installations and FF&E have distinct differences from a typical interior design installation, which is smaller in scale and complexity. Leveraging the company's high skill level in organization and design installations, this division adds the capability to handle high-volume installations, plus receiving and warehousing for new and remodeled hotel and hospitality projects. "Our signature White Glove service is a company standard we bring to every customer, regardless of size," states company president Jeremiah Wing. "It takes a different level and approach to manage the scale of the projects, and our staff responds well to these challenges. Adding this service allows us to showcase that we can effectively and affordably complete projects across the United States."
[Inquiries regarding any of their services may be sent via the company website, or calling 801-397-1041.
About Unique Deliveries
Unique Deliveries delivers high-end furnishings for interior designers and homebuilders, manages large, detailed installations for hotels and FF&E, and offers specialized climate-controlled warehouse services for discriminating clients needing to store valuable furnishings and accessories. The company has successfully delivered, installed, and stored thousands of furnishings for its discerning clientele. Their trained professionals handle the furnishings with their signature "White Glove" service, and provide efficient, dependable, and service to match the elite clientele they serve.
Jeremiah Wing leads the Unique Deliveries staff and his passion for providing a high standard of excellence for each service is unmatched. Licensed and insured, all employees must meet particularly high standards of ability, demeanor, dress and appearance so they are comfortably welcomed into design client homes and hotel environments. Their special care and treatment of the valuables they deliver and install is without match in the industry. They serve the interior design, homebuilding, and hotel industries where quality, dependability, and superior service is demanded.