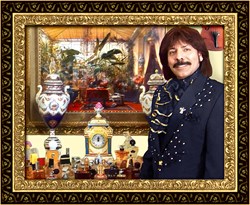 There is a lot to consider when picking a fragrance that will leave your personal signature behind. Therefore, when you leave a room your indelible signature can be remembered the way you desire it to be
(PRWEB) July 31, 2013
The fragrance that a person chooses is part of what defines them to those that they encounter throughout the day. Some people wear the same fragrance at all times and others wear different fragrances according to the time of day, occasion, or taste.
Fragrances say a lot about the wearer. Therefore, a person needs to answer the following three questions in order to define their own perfume personality.
1. Is the person overloaded with fragrance, making it difficult to breath for those around them?
2. Is the fragrance soft and alluring?
3. Is the trail that lingers sensual and leaving those you encounter with a desire for just a little more?
There are many different components that make up a fragrance and each element leaves a different impression on family, co-workers, friends and chance encounters throughout the day.
The major fragrance categories fall into seven basic groups or families, and although many subgroups of these families exist, starting with the more basic ones will be a useful tool and a basic guide. Listed here are some of the standard classifications that are frequently updated: Floral, Oriental, Citrus, Chypre, Fougere, Marine, and Green. The French classification system has two additional categories: Leather and Wood. Fragrances that fall into any one of these groups share a certain relationship and commonality that distinguish them from all the other family of fragrances.
First on the list are the floral scents. They are often considered romantic scents, denoting innocence and carefreeness. These scents make-up the largest of all the fragrance families and vary in range according to a scent's potency, strength, and intensity. Next on the list are the Oriental Scents, these scents tend to be sensual and bold. They are generally considered to be the most sensuous of all the fragrance family groups. If boldness, sensuality and softness are what you're in the market for, the Oriental fragrances may fit your agenda. Citrus Scents are often felt to be refreshing and uplifting. The citrus blends tend to be uplifting as they are refreshing and work well at times when one prefers not to wear too overpowering a fragrance. Chypre Scents are next on the list; these scents tend to be earthy and dynamic. Chypre is described most often for its notably woodsy-mossy theme. It has a sweet, warm and earthy aroma to create a smell that quite a few people find very pleasing. Following Chypre Scents are the Fougere Scents. These scents are associated with fern and are defined as sophisticated and urban. This family of scents is traditionally designed for men; however Fougere fragrances are a sure attention grabber for a woman's sense of smell as well. The category of Marine fragrances is next. These scents are associated with the ocean and the waters of the earth and evoke a sunny and warm feeling. This category came into being and was popularized in the 1990's having notes that shine clear and transparent. The last of the original seven categories are the Green Scents. Green scents are the outdoorsy and sporty of the fragrances defined here.
The two additional categories of French inspiration are the Leather and Woody scents. Leather Scents are meant to be unique and manly. The Woody Scents are more invigorating and fresh; dominating the male fragrant essences. They include scents of: vetiver, cedar, patchouli, and sandalwood.
In summary, there is a lot to consider in answering the three questions above , when picking a fragrance that will leave your personal signature behind. The information provided above is a great basic tool for understanding what scents traditionally inspire. It is best to use the information as a guide and then determine how those traditions can reflect your personal taste and style. Therefore, when you leave a room your indelible signature can be remembered the way you desire it to be.
Oneness is a dynamic blend of East and West in a combination of Occidental and Oriental ingredients, united together in perfect and harmonious oneness. View of the fragrance on youtube: http://www.youtube.com/watch?v=0wmH5FQZapg
Oneness Perfume was created by Shawn Rae, a designer, humanitarian and international recording artist. It is a unisex sensation that is irresistible to both women and men alike. (http://www.OnenessPerfume.com)
More info: Shawn Rae Video Bio 2013: http://youtu.be/jBt9I3g362Q and at http://www.ShawnRae.com