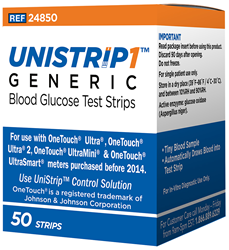 People with diabetes can test as their doctor recommends, but at a price they can afford.
Charlotte, NC (PRWEB) April 09, 2014
More than 25 million Americans suffer from diabetes and the high cost of testing their blood sugar. As a low-cost, highly accurate, alternative product to the OneTouch® Ultra® test strip brand, UniStrip Technologies introduces the UniStrip1™ generic blood glucose test strips for use in LifeScan's® OneTouch® Ultra®, Ultra®2, UltraMini® and UltraSmart® blood glucose meters.
Now available nationwide on Amazon.com, and soon at other online and retail outlets, UniStrip Technologies expects that a bottle of 50 strips will be available for less than many insurance copay amounts.
"Research shows that many people with diabetes fail to properly test their blood sugar levels because of the high cost of branded products," states Rick Admani, President of UniStrip Technologies, LLC. "We created UniStrip1™ with a focus on the person with diabetes who wants to use quality products, but not at the high cost of the big brands."
"People with diabetes can now test as their doctor recommends, but at a price they can afford. Since our suggested retail price is lower than most insurance deductibles, UniStrip1™ test strips are ideal for people with a high copay, or those who buy their supplies with cash."
UniStrip1™ test strips were cleared by the FDA for use with the LifeScan® OneTouch® Ultra®, Ultra®2, UltraSmart® and UltraMini® meters. Those currently using these meters will not have to change their meters to realize the cost savings offered by UniStrip1™.
Admani notes that the company is also working to educate endocrinologists, diabetic educators, and other healthcare professionals about the product's accuracy, availability and value to their patient's care.
Clinical Study Results On Accuracy and Precision
UniStrip Technologies conducted substantial studies on the accuracy and precision of the UniStrip1™ test strips, which the FDA reviewed prior to issuing a clearance for UniStrip Technologies to market the test strips in the USA. Results of the study can be obtained by clicking here.
About UniStrip Technologies
Headquartered in Charlotte, NC, UniStrip Technologies, LLC is a high-tech glucose test strip company that distributes products under the UniStrip brand. The company is led by Rick Admani and an executive management team with more than 20 years of healthcare experience. All of the UniStrip test strips are manufactured by a state of the art research & development manufacturing partner, OK Biotech Co., Ltd of Taiwan, an established diabetes supply manufacturer with $70 million in assets and capacity to produce 90 million vials of test strips annually. For more information, please visit http://www.unistrip-tech.com.
UniStrip1™ test strips are a product of UniStrip Technologies, LLC and are not manufactured, distributed, endorsed, approved by, nor associated with LifeScan®, Inc., a Johnson & Johnson® Company, manufacturers and distributors of the OneTouch® Ultra® Family of Meters and OneTouch® Ultra® test strips.