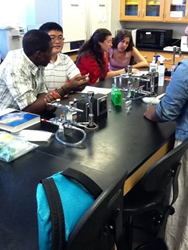 (PRWEB) March 18, 2014
Selected colleges and universities around the country are now recruiting high school students with an interest in pursuing a science, technology, engineering, and mathematics (STEM) career to participate in UNITE, a pre-collegiate summer program. This four-to-six week program is for rising 10th grade students (those between their 9th and 10th grade school year) from groups historically underrepresented and underserved in STEM.
Funded by the U.S. Army Educational Outreach Program (AEOP) and coordinated by the Technology Student Association (TSA), the UNITE program is designed to encourage and help prepare students to pursue college-level studies, and ultimately, careers in engineering and related STEM fields.
Participant institutions will offer rigorous academic coursework with hands-on activities designed to build student knowledge and confidence in a variety of STEM disciplines. Classes at host sites will be taught by qualified high school STEM teachers or college instructors with experience and expertise in teaching STEM to high school students.
In the summer of 2014, ten colleges and universities will serve as host sites:
Alabama State University, Montgomery, AL
University of Colorado, Colorado Springs, Colorado Springs, CO
Florida International University, Miami, FL
Savannah State University, Savannah, GA
Xavier University of Louisiana, New Orleans, LA
Jackson State University, Jackson, MS
New Jersey Institute of Technology, Newark, NJ
University of New Mexico, Albuquerque, NM
University of Pennsylvania, Philadelphia, PA
South Dakota School of Mines, Rapid City, SD
Individuals who know students interested in applying to participate can visit the UNITE website for contact information. For additional information, contact Hillary Lee at the national TSA office.
###
About the Technology Student Association (TSA)
TSA is a national organization for students interested in science, technology, engineering, and mathematics (STEM). Open to young people enrolled in, or who have completed, technology education courses, TSA's membership includes over 200,000 middle and high school students in 2,000 schools spanning 48 states. TSA partners with universities and other organizations to promote a variety of STEM competitions and opportunities for students and teachers. TSA is supported by educators, parents, and business leaders who believe in the need for a technologically literate society. From engineers to business managers, our alumni credit TSA with a positive influence in their lives. Visit the Technology Student Association website for more information.
About the Army Educational Outreach Program (AEOP)
The AEOP is comprised of Army-sponsored research, education, competitions, internships and practical experiences designed to engage and guide students and teachers in science, technology, engineering, and mathematics (STEM) education. Its programs include Junior Solar Sprint, the Mobile Discovery Center, eCYBERMISSION, Gains in the Education of Mathematics and Science (GEMS), the West Point Bridge Design Contest, UNITE, and the Junior Science and Humanities Symposium (JSHS). Scholarship and award opportunities also are available through AEOP. The organization responsible for AEOP is the Assistant Secretary of the Army for Acquisition, Logistics, and Technology. Visit the U.S. AEOP website for more information.