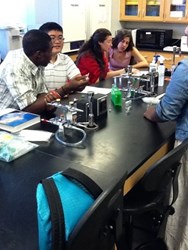 Reston, VA (PRWEB) December 10, 2013
Colleges and universities nationwide are invited to become host institutions for UNITE, a pre-collegiate summer program designed to ignite interest in science, technology, engineering, and mathematics (STEM) disciplines among 10th and 11th grade students from underrepresented populations. An initiative of the Army Educational Outreach Program (AEOP), UNITE helps prepare students to pursue college-level studies and, ultimately, careers in engineering and related STEM fields.
Administered by the Technology Student Association, UNITE is well suited for higher education institutions that wish to supplement an existing STEM summer program with opportunities for underserved participants.
Applicant institutions must make a two-year commitment to enroll a minimum of 10 students in a residential or nonresidential four- to six-week summer program. Host institutions are responsible for recruiting and selecting UNITE student participants.
"Colleges and universities that apply have the opportunity to provide rigorous academic coursework with a focus on hands-on activities that will build student knowledge, ability, and confidence in their STEM studies," explains Louie Lopez, Cooperative Agreement Manager from the U.S. Army Educational Outreach Program. Classes at host sites must be taught by qualified high school STEM teachers or college instructors with experience and expertise in teaching STEM to high school students.
Seven to 12 institutions will be chosen as host sites through a competitive process. Since the program must be free for selected students, host institutions will be awarded funding from AEOP to support participant involvement. The deadline to apply to be a host institution is January 6, 2014. The Request for Proposal, as well as additional information, can be found on the UNITE program website.
"UNITE's projects and activities can inspire a student to discover a new career interest, while also providing vital life and career-readiness skills. The Technology Student Association values the important role UNITE can have in students' lives," explains Dr. Rosanne White, executive director of the Technology Student Association.
Last year, Stephanie Gomez participated in a UNITE program hosted by Miami Dade College, Wolfson Campus. She said the program was "a perfect opportunity to experience and learn more about different careers, and my dream job of being a cardiothoracic surgeon." Gomez said further she found it inspiring to "be around people who share my same ambitions." She added, "I learned about math in our everyday lives, the golden ratio, supernovas, managing my time, how to study, how to use lab equipment, how to work in groups, as well as how to be a leader."
###
About the Technology Student Association (TSA)
TSA is a national organization devoted exclusively to the needs of students interested in science, technology, engineering, and mathematics (STEM). Open to young people enrolled in or who have completed technology education courses, TSA's membership includes over 190,000 middle and high school students in 2,000 schools spanning 48 states. TSA partners with universities and other organizations to promote a variety of STEM competitions and opportunities for students and teachers. TSA is supported by educators, parents and business leaders who believe in the need for a technologically literate society. From engineers to business managers, our alumni credit TSA with a positive influence in their lives. Visit http://www.tsaweb.org for more information.
About the Army Educational Outreach Program (AEOP)
The AEOP is comprised of Army-sponsored research, education, competitions, internships and practical experiences designed to engage and guide students and teachers in science, technology, engineering, and mathematics (STEM) education. Its programs include Junior Solar Sprint, the Mobile Discovery Center, eCYBERMISSION, Gains in the Education of Mathematics and Science (GEMS), the West Point Bridge Design Contest, UNITE, and the Junior Science and Humanities Symposium (JSHS). Scholarship and award opportunities also are available through AEOP. The organization responsible for AEOP is the Assistant Secretary of the Army for Acquisition, Logistics, and Technology. Visit http://www.usaeop.com for more information.