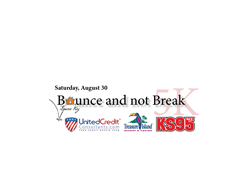 Minneapolis, Minnesota (PRWEB) August 23, 2014
Spare Key, a Minnesota based non-profit that provides mortgage and rental grants to families with critically ill or seriously injured children in the hospital, along with race partners and sponsors, United Credit Consultants, Treasure Island Resort & Casino and KS95 announced new elements for the upcoming family-friendly 5K inflatable obstacle course.
The event, which will feature oversized inflatable obstacles courses with names like Adrenaline Rush Extreme, Wacky Kid Course with slide, Bounce House and other "bounce" related activities donated by the Minnesota Twins, Minnesota Timberwolves and the Minnesota Wild to raise funds and awareness for Spare Key. The 5K course will be held on Prairie Island Indian Community property and around Treasure Island Resort & Casino.
Food trucks, prizes and much more will be a part of this innovative NEW 5K race for Minnesota families.
Since 1997 Spare Key has provided more than 2,300 families with housing grant assistance totaling more than $2.3 million. So far in 2014, there has been a 52% increase in applications compared to this time last year, and Holubar said that while Spare Key is saying yes to more families than ever before, the organization is having to say no to families more often than it wants to.
"We're committed to helping more families every month and the "Bounce and not Break 5K" is just another way for us to engage the community in supporting our efforts," Holubar said. "Whether a family has a child battling cancer, struggling with mental illness or fighting to overcome complications from a serious injury or birth defect, Spare Key is their advocate and their partner. We believe the resource and service we provide gives families that moment to catch their breath and focus on their child's care and recovery."
To register and learn more about the "Bounce and not Break 5K" go to https://www.eventbrite.com/e/spare-key-bounce-and-not-break-5k-family-fun-race-tickets-11650237173
You can also learn more about the sponsors here.