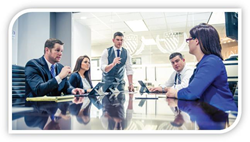 New York, NY (PRWEB) September 04, 2014
United Credit Consultants™ is a Credit Service and Debt Settlement organization operating in the State of Minnesota licensed by the MN Department of Commerce.
Founded in 2009, United Credit Consultants™ has grown to be the most widely recognized and successful credit restoration companies in the state of Minnesota as well as a growing force nationally. UCC is currently in the top 1% nationally in size. UCC has a team of hard working and motivated individuals that together provide services that change people's credit opportunities. Through a trademarked system that offers both credit and debt related services, UCC is able to offer solutions to consumers from all walks of life that are looking to better themselves, and their current credit situation, through the improvement of one of the most important factors of judgment and risk used in the financial industry, which is credit worthiness.
President and CEO of United Credit Consultants, Joseph McGlynn said "It is the single most gratifying award to win. Placing in the top 300 is amazing. Hard work and dedication does pay out. UCC has unique services that most don't, as a customer service entity, you need to separate yourself from others... if you don't, and you have nothing that identifies you… or your brand. I have, as well as my team strives every day to make United Credit Consultants special and a leader in the Credit Service Industry! I am proud of what we have become and who we are today! I am blessed and humbled."
United Credit Consultants™ is a licensed Credit Services Organization that specializes in credit report investigation services, credit building tactics, credit account management solutions, with personalized credit education throughout. United Credit Consultants has an additional license in the debt settlement services field, which is serviced as the Debt Settlement Solutions™ Program. This additional license is to complement and round out the Path to Credit Recovery Program.
The 2014 Inc. 5000, unveiled online at Inc.com and with the top 500 companies featured in the September issue of Inc. (available on newsstands August 20 to November 30), is the most competitive crop in the list's history. The average company on the list achieved a mind-boggling three-year growth of 516%. The Inc. 5000' s aggregate revenue is $211 billion, generating 505,000 jobs over the past three years. Complete results of the Inc. 5000, including company profiles and an interactive database that can be sorted by industry, region, and other criteria, can be found at http://www.inc.com/inc5000.
"What surprises me, even though I know it's coming, is the sheer variety of the paths our entrepreneurs take to success, thematically reflecting how our economy has evolved," says Inc. President and Editor-In-Chief Eric Schurenberg. "This year there are far more social media and far fewer computer hardware businesses than there were, say, six years ago. But what doesn't change is the fearsome creativity unleashed by American entrepreneurship."
The annual Inc. 5000 event honoring all the companies on the list will be held from October 15 through 17, 2014 in Phoenix. Speakers include some of the greatest entrepreneurs of this and past generations, such as Michael Dell, Martha Stewart, host of the CNBC show "The Profit" Marcus Lemonis, Container Store Founder and CEO Kip Tindell, and Chobani Founder and CEO Hamdi Ulukaya.
More about Inc. and the Inc. 500|5000
Methodology
The 2014 Inc. 5000 is ranked according to percentage revenue growth when comparing 2010 to 2013. To qualify, companies must have been founded and generating revenue by March 31, 2010. They had to be U.S.-based, privately held, for profit, and independent--not subsidiaries or divisions of other companies--as of December 31, 2013. (Since then, a number of companies on the list have gone public or been acquired.) The minimum revenue required for 2010 is $100,000; the minimum for 2013 is $2 million. As always, Inc. reserves the right to decline applicants for subjective reasons. Companies on the Inc. 500 are featured in Inc.'s September issue. They represent the top tier of the Inc. 5000, which can be found at http://www.inc.com/5000.
About Inc. and the Inc. 5000
Founded in 1979 and acquired in 2005 by Mansueto Ventures, Inc. is the only major brand dedicated exclusively to owners and managers of growing private companies, with the aim to deliver real solutions for today's innovative company builders. Total monthly audience reach for the brand has grown significantly from 2,000,000 in 2010 to over 6,000,000 today.
The Inc. 500|5000 is a list of the fastest-growing private companies in the nation. Started in 1982, this prestigious list of the nation's most successful private companies has become the hallmark of entrepreneurial success. The Inc. 5000 Conference & Awards Ceremony is an annual event that celebrates their remarkable achievements. The event also offers informative workshops, celebrated keynote speakers, and evening functions.