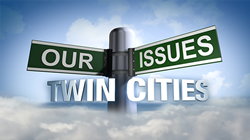 75 % of attacks are opportunistic – not targeted at a specific person or company.
Burnsville, MN (PRWEB) March 19, 2014
The CW23 Twin Cities has a weekly 30 minute program profiling the many positive ways Minnesotan's are improving and protecting the community. The program that had aired on March 9th at 9:30 a.m. CST, placed a great deal of emphasis on consumer identity theft and stolen data. One of the special guests that was asked to be a part of the show was Joseph McGlynn, President and CEO of United Credit Consultants, a Minneapolis, MN based Credit Service Organization (CSO) that is located at 418 Gateway Blvd, Burnsville, MN 55337.
Mr. McGlynn was clear on his message that the best way to protect yourself and your family on a indemnity theft situation is to be as proactive as possible when dealing with your credit and personal information. McGlynn says: "As consumers place more and more information out on the internet and social media sites with personal information, it will place a larger target on your back and will put you and you information at risk to have a data and credit breach." He goes on also by saying, "Signing up for a monthly online monitoring service to keep an eye and track your credit is very important, at any point, if ever there is something that does not look accurate or activity that is known not to be yours, contact the credit bureaus, your bank and local authorities if needed."
The 'Our Issues | Twin Cities' program put this program together to gather and build awareness to the average consumer that identity theft is becoming a serious issue as seen with the Target data breach last year. The most vulnerable assets were found to be ATM'S 30%, desktops 25%, file servers 22%, laptops 22% and web applications 10%.
United Credit Consultants has seen an increase in identity theft cases in the last four years. The growth in cases is said to be from Mr. McGlynn. The rise in cases and consumer identity breaches is opportunity. 75 % of attacks are opportunistic – not targeted at a specific person or company. Most of these cases are financially driven and motivated.
To gain more information on becoming more proactive and tracking your data and personal information, contact United Credit Consultants consumer relations department to speak with one of their FICO Certified Credit Advisors to put you in the right direction on what steps to take.
United Credit Consultants | 418 Gateway Blvd, Burnsville, MN 55337 | http://www.unitedcreditconsultants.com | info(at)unitedcreditconsultants(dot)com | 1-800-455-4100