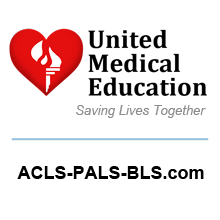 We believe here at United Medical Education that learning ACLS online doesn't have to be difficult. ACLS online certification, PALS online certification and BLS online certification is now easier to access and follow than ever before
New York, NY (PRWEB) January 28, 2015
United Medical Education, an official online ACLS, PALS, and BLS certification provider, recently announced its decision to offer students the opportunity to complete their ACLS BLS recertification online, at the same time, by passing one exam. The exam provider fused the two courses together into one accelerated course so that students can earn both their ACLS and BLS certifications in less than an hour.
According to an article available on United Medical Education's website, it is easy to complete its ACLS PALS BLS exam in an hour, especially because it can be done from in the comfort of the test taker's own home. After passing the exam, students will receive an instant digital provider card while a hard copy is mailed to their address. Students will also receive year-round access, 24 hours a day, to their courses. Additionally, after completing the courses, students receive their certificate for CEU/CME credit instantly.
The Accrediting Medical Education and Certification Commission (AMECC) endorse all of United Medical Education's programs and courses. The website's exams and materials are created and approved by certified medical doctors, and all of them are up to date. Each of the certification provider's learning materials was created with simplicity and accelerated learning in mind; they are easy to read and complete, plus the training materials are included in the course's price.
"ACLS online certification and recertification can easily be earned in under 60 minutes, even if it's your first time taking the course," stated a representative of United Medical Education. "We believe here at United Medical Education that learning ACLS online doesn't have to be difficult. ACLS online certification, PALS online certification and BLS online certification is now easier to access and follow than ever before."
Individuals interested in learning more about United Medical Education and its programs can visit the certification provider's website for additional information.
About United Medical Education:
United Medical Education is the official online ACLS, PALS, and BLS certification provider. Their mission is to improve online education of emergency techniques used to save lives in the event of a heart attack, stroke, or respiratory arrest. They have also dedicated a large amount of their efforts to humanitarian aid and education in economically depressed regions of the world. For more information, please visit https://www.acls-pals-bls.com