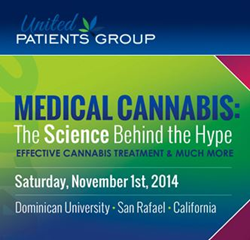 Learn this protocol so you can hit the ground running when the time comes. It will be a lifesaving choice!
San Francisco, CA (PRWEB) October 04, 2014
As humans, we have a natural aversion to thinking about illness, aging, and death. But here's the truth: at some point in life, everyone will be confronted with a loved one's serious illness. United Patients Group advises people to prepare now so they'll be ready to address it head on. To help people learn about cannabinoid medicines before they're overwhelmed by the chaos of caring for a sick friend or family member, the medical cannabis advisory service created "Medical Cannabis: The Science Behind the Hype." This one-day seminar on November 1st at Dominican University of California in San Rafael, California will feature presentations by some of the most knowledgeable practitioners in the medical cannabis field.
The husband-and-wife team behind United Patients Group knows first-hand how hard it is to learn about treatment options in the middle of a family crisis. In 2011, Corinne Malanca's father, Stan Rutner, was diagnosed with stage-four lung cancer, and his chemo treatments couldn't stop it from metastasizing to his brain. He was given two weeks to live. Corinne and her husband, John Malanca, stumbled upon cannabis in a desperate search for treatment options. They started Stan on cannabis capsules, within two days he began feeling better. After nine months, he was in remission; the results still show, "No Evidence of Recurring Disease."
"We know from experience how hard it is to try to educate yourself about healthcare options while in the middle of a family crisis," explains John Malanca. "Our goal is to educate people about how medical cannabis works and which treatments are right for which ailments, so they don't have to go through the stress and confusion of trying to figure it all out in the middle of the emotional hurricane."
The upcoming conference will explain how the body's endocannabinoid system works, and how medical cannabis works with it to bring the body back into balance. United Patients Group invites all people who are curious to attend—even if they're not sure about medical cannabis. For the medical professionals, CEU's of 6 Contact Hours will also be offered.
"We know there are many people out there who aren't convinced that cannabis is the answer. We applaud your skepticism, and want to let you know that cannabis works quite well WITH Western medicine. It is not about choosing one or the other—it's about knowing your options," says Malanca.
The medical cannabis conference will take place on Saturday, November 1, at Dominican University of California in San Rafael, California. General Admission tickets are $50, and CEU tickets are $75. CEU's are provided by Patients Out of Time. "Provider approved by the California Board of Registered Nursing, provider number 16044 for 6 Contact Hours."
"At some point we will all be faced with the question of how we can help our parents, best friend, husband, wife, or child. Don't wait until someone you love one receives a fatal diagnosis. Don't wait until there is no more hope," urges Malanca. "Learn this protocol so you can hit the ground running when the time comes. JOIN US on November 1. It will be a lifesaving choice!"
Tickets Available Online: General Admission tickets are $50 and CEU tickets are $75. Click here to register.
Sponsorship opportunities are available.
Media passes are available. Contact Press(at)UnitedPatientsGroup(dot)com to obtain one.
For more information about how cannabinoids work, go to http://www.UnitedPatientsGroup.com.
About United Patients Group:
United Patients Group is a discreet, safe, and professional online medical cannabis information resource for prospective and current patients, caregivers, and medicinal cannabis industry professionals.
While most online medical cannabis sites cater to patients already familiar with medical marijuana, the UnitedPatientsGroup.com website is a comprehensive and easy-to-use information source for people of all ages and experience levels, from novice users to experienced industry professionals. The site's News, Resource, and Blog pages introduce new patients to the ins and outs of medical marijuana healthcare, while helping experienced providers stay abreast of the latest developments in THC and CBD therapies.
A complimentary five-star-rated United Patients Group medical marijuana app is available on the iTunes app store for iPhone 3GS, iPhone 4, iPhone 4S, iPhone 5, iPod touch (3rd generation), iPod touch (4th generation), and any iPad.