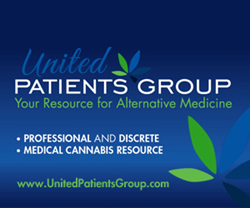 Cannabis laws vary tremendously from state to state, and they have been changing faster than ever in recent years
San Francisco, CA (PRWEB) July 12, 2014
Cannabis legislation has been all over the news lately. New York just became the twenty-third state to legalize medical cannabis, and a day later, Washington state's first recreational marijuana dispensaries opened their doors. Activists have successfully brought cannabis-related initiatives to the November ballot in three states and Washington, DC, and many other state legislatures are working on relaxing cannabis regulations.
In light of all these changes, United Patients Group thought it would be a good time to put together a comprehensive list of which states allow medical cannabis, which states allow recreational cannabis, and which states have pending legislation or ballot initiatives in 2014.
"Cannabis laws vary tremendously from state to state, and they have been changing faster than ever in recent years," says John Malanca, founder and owner of United Patients Group, a trusted advocate and news source for medical cannabis patients. "We wanted to give a comprehensive overview of where each state stands and where each state is headed."
Colorado and Washington are currently the only two states that regulate and tax recreational cannabis use. Since the law went into effect on January 1, Colorado has collected $11 million in tax revenue to fund education. Washington dispensaries opened on Tuesday, and the state is expecting to reap millions in taxes to fund its healthcare plan and the General Fund.
Three state legislatures passed medical marijuana bills this year: Minnesota on May 30, Maryland on June 1, and New York on July 5. This brings the total number of states that allow legal access to medical cannabis up to twenty-three states plus Washington, DC.
"It has been an incredible year for medical cannabis—and the year is only half over!" exclaims Malanca. "As more people become educated about the benefits of cannabis for treating a wide array of serious ailments, it becomes impossible to deny patients access to the medicine that helps them most."
Even conservative states that have remained staunchly anti-cannabis have started to relax their stance a bit. This year, eleven states approved the use of a non-psychoactive cannabis derivative, CBD oil, to treat childhood epilepsy. After an affecting series of reports by Dr. Sanjay Gupta on CNN about how this oil was the only medicine that worked for a group of children with severe epilepsy, governors in Alabama, Florida, Iowa, Kentucky, Mississippi, South Carolina, Tennessee, Utah and Wisconsin signed bills that allow its use. Legislatures in Missouri and North Carolina have approved similar bills, and the governors are expected to sign them soon.
"We applaud these states for recognizing that these children deserve access to medicine that makes an incredible difference to their seizures. We want to point out, however, that many parents find medicine that has more THC in it to be even more effective," notes Malanca. "And while CBD oil helps with epilepsy, different strains and extracts of cannabis are effective at treating other diseases—including cancer, Alzheimer's, fibromyalgia, depression, and many others. All patients in these states deserve full access to medical cannabis."
Looking to the rest of 2014, United Patients Group sees promising activity all over the country. This November, voters in Alaska, DC, and Oregon will have the opportunity to legalize recreational cannabis, which will be regulated and taxed similarly to Colorado and Washington. Voters in Florida will have the opportunity to legalize medical cannabis.
State legislatures are working on cannabis laws, too. This session, many states have considered or are considering legalizing medical marijuana, treating cannabis like alcohol, reducing penalties for marijuana possession, and allowing industrial hemp.
Malanca concludes, "It's heartening to see that so many states are taking steps to change their unjust cannabis laws, but we still have a lot of work to do to make sure that all Americans can have safe, legal access to the medicine they need."
About UnitedPatientsGroup.com
UnitedPatientsGroup.com is a discreet, safe, and professional online medical cannabis information resource for prospective and current patients, caregivers, and medicinal cannabis industry professionals.
While most online medical marijuana sites cater to patients already familiar with medical marijuana, the UnitedPatientsGroup.com website is a comprehensive and easy-to-use information source for people of all ages and experience levels, from novice medical cannabis users to experienced industry professionals. The site's News, Resource, and Blog pages introduce new patients to the ins and outs of medical marijuana healthcare, while helping experienced providers stay abreast of the latest developments in THC and CBD therapies.
A complimentary Five Star-rated United Patients Group medical marijuana app is available on the iTunes app store for iPhone 3GS, iPhone 4, iPhone 4S, iPhone 5, iPod touch (3rd generation), iPod touch (4th generation) and any iPad.