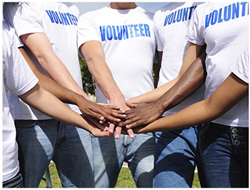 The United Way has been providing substantial assistance to children and families in this area for a generation, and this charity event with help raise donations to further their efforts
Silver Spring, MD (PRWEB) June 21, 2016
Portee Insurance Agency, a family owned insurance and financial planning firm with business and residential clients throughout the DC region, is joining forces with the United Way of the National Capital in a charity event that promises to raise funds for local families and children in need.
The National Capital chapter of the United Way works to create diverse partnerships between business owners, government agencies, donors, faith-based organizations, and other non-profits in the area to help build a stronger community for everyone. Chief among the goals of the United Way is alleviating the effects of poverty and providing scholastic support for area children.
"The United Way has been providing substantial assistance to children and families in this area for a generation, and this charity event with help raise donations to further their efforts," says Ralph Portee, owner and director of Portee Insurance Agency.
To publicize the United Way of the National Capital charity drive and gather support from like-minded families and business owners in the DC area, Portee and his team have created an online social media forum and initiated a community email bulletin. Additionally, Portee Insurance will be producing a full page article featuring the charity event in the upcoming issue of "Our Hometown," a monthly webzine hosted by the firm: http://www.porteeinsurance.com/Our-Hometown-Magazine_41.
The Portee Insurance Agency has already assisted nearly a dozen other firms over past months as part of an ongoing community initiative called "Agents of Change." As part of this program, the firm will continue finding and working with more DC area charities and non-profits at the rate of one every other month.
Those who want to join Portee Insurance Agency during the United Way of the National Capital charity event are invited to visit this page and make a personal contribution to the effort: http://www.porteeinsurance.com/Together-We-Build-A-Future-in-the-National-Capital_21_community_cause. Those who want to know more about previous charities and non-profits supported by the Portee team are invited to review the firm's Community Causes here: http://www.porteeinsurance.com/community-cause?page=1.
About Portee Insurance
A full service firm serving families from two locations in Silver Spring, MD, Ralph Portee and his team of caring professionals have one simple mission: to provide the best insurance and financial services in the industry while maintaining consistently superior service. Their focus is to protect all the things which are most important to their clients (their families, homes, cars, etc.) and to help them develop strategies for long-term financial success and security. The dedicated agents at Portee Insurance may be reached by calling 301-587-0196.