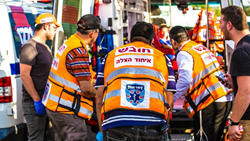 United Hatzalah's revolutionary approach to emergency medicine reduces paramedic response times
SAN LUIS OBISPO, Calif., and PETAH TIKVA, Israel (PRWEB) August 01, 2018
United Hatzalah (United Rescue) operates a network of volunteers whose aim is to save lives across the State if Israel. The organization has 5,000 volunteer medical personnel – paramedics and doctors. They go about their daily routines, but if a patient or injured person needs help within their geographic surroundings, they leave everything and rush to provide first aid until an ambulance arrives.
Contact is initiated through the organization's emergency hotline, which operates 24 hours a day, seven days a week all year, using the 1221 phone number from any telephone. The dispatch center identifies the volunteers who are closest using Partner PTT's GPS location feature, which is integrated with a Computer Aided Dispatch (CAD) system to dispatch the closest available volunteers.
Volunteers arrive to the patients at a national average of three minutes and serve first aid until an ambulance arrives. Since United Hatzalah deals with saving lives and in these cases every second counts, the organization sought to use the most advanced communications system in the market.
Moshe Teitelbaum, CEO of United Hatzalah, explained the choice of Partner's PTT service: "The goal of United Hatzalah is to provide quick medical assistance to a patient or wounded even before an ambulance arrives. As an innovative emergency medical organization, we decided to switch to advanced technologies that will enable United Hatzalah's center to operate our national volunteer network quickly and optimally, which is suitable for the challenges we face in the present and will deal with in the future."
Josh Lober, ESChat CEO, added, "ESChat us widely used for EMS dispatch throughout North America, and is a natural fit for United Hatzalah. Israel is unique as its citizens serve compulsory military service, many with training as paramedics. This enables a large base of trained volunteers who, when properly equipped can operate in a 'crowdsourced' model which provides a reduced response time."
Evidence of the system's ability to support services of critical importance was recently given when United Hatzalah chose Partner's PTT solution along with Ewave Mobile, which represents ESChat and provides local customer support.
United Hatzalah previously used iDEN based PTT infrastructure along with long-distance radios. As part of the new arrangement, the organization selected the communications solutions of Partner Communications and ESChat's application – including the transition to 4G, the provision of rugged cellular devices according to the needs of the volunteers, the assimilation of advanced technology enabling secure PTT communications, and the integration of an advanced management platform into the organization's network of devices.
"We have chosen the leading systems that have proven themselves, and we are proud to be the leaders in technological innovation in order to save lives in Israel," said Doron Mah Tov, who led the process for United Hatzalah.
Please follow the following url for additional information:
https://www.themarker.com/labels/1.6279946
About ESChat:
ESChat (http://www.eschat.com) is the leading solution for carrier independent Secure Push to Talk (PTT) over LTE communications. ESChat includes AES-256 encrypted PTT voice and multimedia (text and image) messaging. ESChat also provides live and historical (bread crumb) tracking and mapping. Currently used by the U.S. Military as well as Federal, State and Local law enforcement, ESChat is able to operate over and across any wireless network, including all commercial carriers, private 3G/4G networks and WiFi. ESChat supports interoperability with all LMR radio networks, including P25 via the native Inter RF Subsystem Interface (ISSI) protocol and DMR via the native Inter Application Interface Specification (AIS) protocol.
About United Hatzalah:
United Hatzalah of Israel (http://www.israelrescue.org) is the largest independent, non-profit, fully volunteer Emergency Medical Service organization that provides the fastest and free emergency medical first response throughout Israel. United Hatzalah's service is available to all people regardless of race, religion, or national origin. United Hatzalah has more than 4,000 volunteers around the country, available around the clock – 24 hours a day, 7 days a week, 365 days a year. With the help of our unique GPS technology and our iconic ambucycles, our average response time is less than 3 minutes across the country and 90 seconds in metropolitan areas. Our mission is to arrive at the scene of medical emergencies as soon as possible and provide the patient with professional and appropriate medical aid until an ambulance arrives, resulting in many more lives saved.
About Ewave Mobile:
Ewave Mobile (http://www.ewavemobile.com) is the leading Israeli company in the fields of supply chain management, integrated hardware and software solutions, and leading IoT Internet projects for the industry. The company provides end-to-end computing solutions for the entire industry, retail, logistics and more, as well as advanced systems that combine hardware and software for the mobile worker in each organization.